SPC head urges stronger judicial support for development of Henan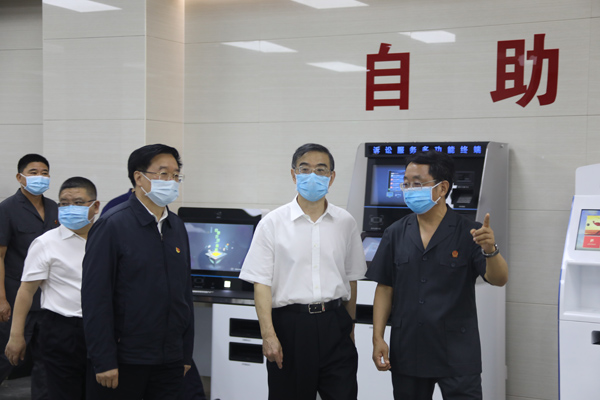 Zhou Qiang, chief justice and president of the Supreme People's Court (SPC) inspects courts work in Central China's Henan province. [Photo/court.gov.cn ]
Zhou Qiang, chief justice and president of the Supreme People's Court (SPC), called for strong judicial support for the development of the Central China's Henan province during an inspection tour there from July 28 to 29.
During his visit to the intermediate court of Xinyang city, Zhou inspected the court's litigation service and information centers and reviewed its trial and enforcement work. Zhou stressed the need to adhere to the people-centered concept, greatly raise the accessibility of judicial services and use diversified measures to defuse disputes so as to promote social harmony and stability.
At the province's high court, Zhou attentively learned about its online court documents delivery platform which has achieved positive results since its launch in June. He encouraged the court to summarize their practices and share their experience with courts nationwide.
After hearing a report of the high court, Zhou urged it to continue to protect and stimulate market vitality, cultivate a market-oriented, law-based and internationalized business environment. He also called for strong judicial support for the COVID-19 prevention and control, economic and social development, building of a moderately prosperous society in all respects and the critical battle against poverty.
Zhou also visited the Fourth Circuit Court of the SPC, located in Zhengzhou, capital city of Henan, and greeted the personnel of the Shangcheng county people's court, Xinyang city in a video call.