Gan Chulin: Let people enjoy more high-quality and convenient judicial services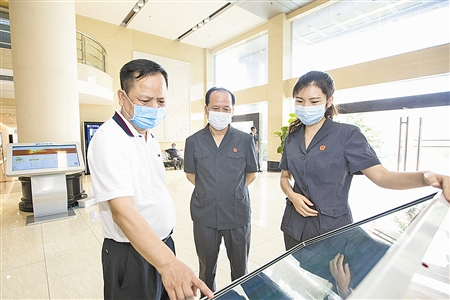 Gan Chulin (left) learns about automatic case filing in the Court of Wanxiu District, Wuzhou. [Photo/court.gov.cn]
Gan Chulin, a deputy to the National People's Congress, visited the People's Court of the Wanxiu District in Wuzhou, Guangxi Zhuang autonomous region, to investigate and survey the construction of a one-stop diversified disputes resolution mechanism on May 13.
In his survey of the court, Gan, who is also the vice-president of Wuzhou Maternal and Child Health Hospital, had his focus on the court's diversified dispute resolution service center.
Gan learned about the information technologies adopted by the court, such as online case filling, cross-jurisdiction case registration and electronic delivery service.
He also learned that the litigation service center has set up 73 remote video fixed docking points, with which trials and mediation can be conducted online to effectively resolve disputes before litigation. The number of cases handled by the court decreased from 4,884 in 2016 to 3,883 in 2019.
The court quickly handled a case over medical violence amid the epidemic, earning wide praise from the medical profession.
Gan proposed that with the example of the existing internet court the court should deeply integrate the construction of smart procedures with the litigation service center to reduce judges' pressure from handling cases and enable people to enjoy more high-quality, efficient and convenient judicial services.