Shandong courts hear cases with foreign litigants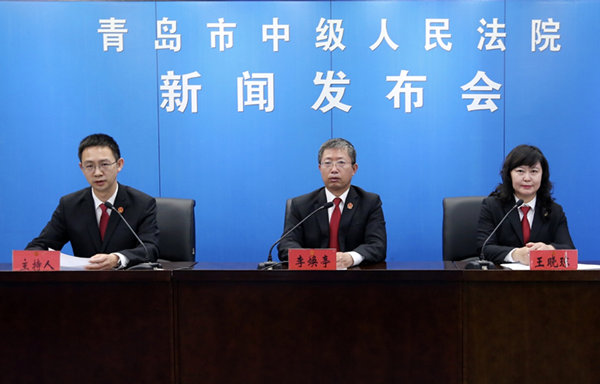 Courts in Qingdao, Shandong province, heard 1,058 commercial cases involving overseas litigants valued at more than 8.8 billion yuan ($124 million) from 2016 to 2019, according to a white paper released on Monday. [Photo provided to chinadaily.com.cn]
Courts in Qingdao, Shandong province, heard 1,058 commercial cases involving overseas litigants valued at more than 8.8 billion yuan ($124 million) from 2016 to 2019, according to a white paper released on May 11.
The cases involved 50 countries and regions, including the United States, Canada, the United Kingdom and France. They also included 17 countries participating in the Belt and Road Initiative, such as Russia, Kazakhstan, Singapore, India and Thailand.
Thirty-six percent of the cases involved litigants in Hong Kong, Macao and Taiwan. Cases involving South Korea and Japan accounted for 25 percent, and those involving the United States and European countries accounted for 18 percent.
The white paper, released by Qingdao Intermediate People's Court, provided statistics and in-depth analysis of commercial cases involving overseas litigants in recent years.
It said both the quantity and monetary value of these cases had increased year by year, with most of the cases involving typical commercial disputes between international business entities.
New types of cases in fields such as e-commerce and financial innovation have increased annually, a reflection of the rapid development of the city's open economy.
Disputes arising from overseas tourism contracts and insurance contracts have been on the rise, the white paper said.
With the rapid development of the service trade, it is important to strengthen awareness of risk prevention and to regulate service standards, it said.