New guiding cases on IP, state compensation, enforcement, environmental protection released
The Supreme People's Court (SPC) released three new groups of 27 guiding cases at a press conference held on Jan 14, with Wu Zhaoxiang, deputy director of the SPC's Research Office explaining them to the audience.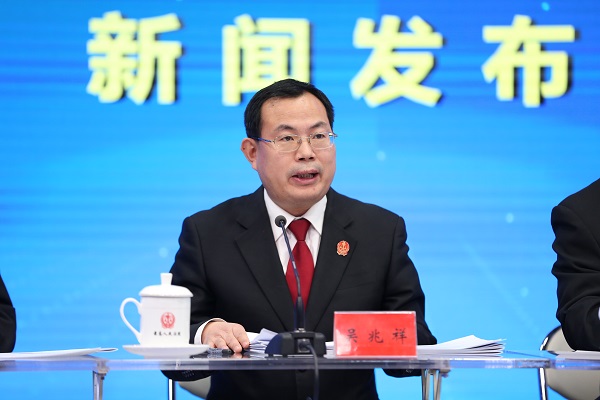 Wu Zhaoxiang, deputy director of SPC's Research Office, speaks at the press conference. [Photo/court.gov.cn]
Group No 22 contains four guiding cases, three of them on intellectual property and one related to state compensation. One of the intellectual property cases involves the former NBA superstar Michael Jordan.
According to Wu, these four cases, which raise unusual issues that require special expertise, were all heard by SPC's vice-president or grand justices, fully demonstrating the outcome of China's judicial reform.
Group No 23 includes ten guiding cases on judgment enforcement which are expected to play a guiding role in the future given the current shortage of legislation in that area, said Wu.
Group No 24 contains 13 guiding cases which were selected from over 100 environmental protection-related actions as part of SPC's effort to provide judicial support for the country's ongoing war on pollution
By the end of 2019, the SPC had issued a total of 135 typical cases on environment and natural resources, 10 of which were placed on the United Nations Environment Programme (UNPE)'s website, where they inform the world about China's judicial approach to environmental issues.