Smart courts ease access to legal services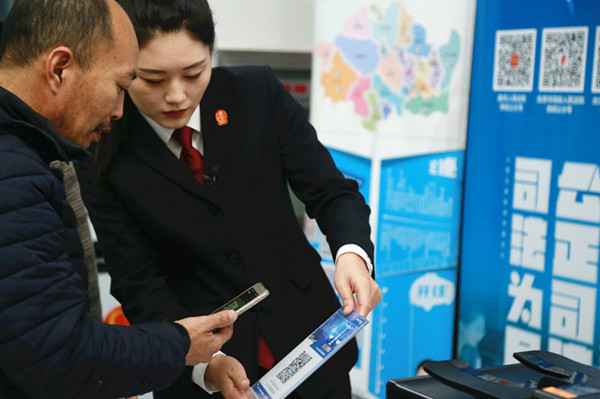 A judicial official at Beijing Fangshan District People's Court helps a litigant access legal services through a quick response code last month, as part of "one-stop" services to offer easier legal aid. CHINA DAILY
On Nov 14, three university students wrote and submitted a civil complaint asking for compensation from an errant driver, just two days after they had been involved in a traffic accident in Beijing's Changping district.
Having collided with the students' car, the driver fled the scene, so they needed to locate him to claim the compensation.
The process was completed successfully and promptly, even though the women had no legal background and were unfamiliar with judicial documents.
"I never thought initiating a lawsuit would be so easy; it is all thanks to a self-service machine in the district people's court in Beijing that helps people write civil complaints," said one of the litigants, identified only as Liang.
When she and her classmates arrived at the court's litigation and legal service center, the machine provided a list of questions about the accident. After the students had answered the questions, a complaint was generated automatically and their case was filed by the court.
On Dec 6, the case was concluded through mediation, and the women received compensation.
"The legal services offered by the smart machine lowered our litigation costs, and we had no need to hire a lawyer to solve the problem. It was so convenient, especially for people like us, with little legal knowledge," Liang said.
Last year, the machines, which help write legal documents as part of "one-stop" services to provide easier access to litigation, were introduced in courts across the capital. Later, their use was gradually extended to tribunals nationwide.
"Building and improving the one-stop litigation service center was our priority last year. It is intended to help local people obtain as many litigation-related services as possible at one time when they come to a court, including filing cases, researching the law and drafting legal documents," said Zhang Zhifu, a judicial official at Haidian District People's Court.
In August, the Supreme People's Court, the nation's top court, issued a guideline that ordered tribunals at all levels to strengthen adoption of the internet and related technologies in each step of the litigation process. The move was intended to further improve judicial efficiency and to end disputes quickly via a wider range of resolutions.
"That is to say, people not only enjoy litigation-related services in the court, but can also obtain mediation or arbitration at the same time. They decide the way they want to deal with their problem and we integrate the legal services into one platform to help them resolve the dispute easily and effectively," Zhang said.
"In short, all-in-one legal service centers are being established in more courts."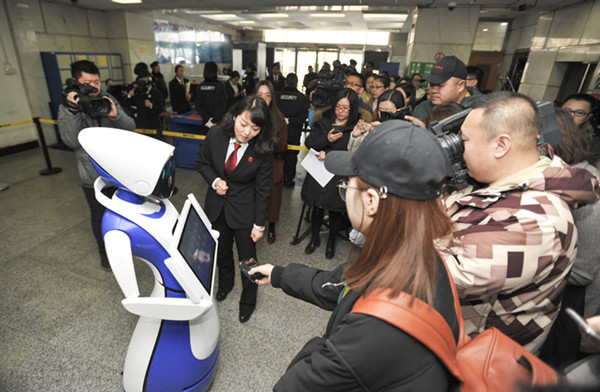 A robot that provides automatic legal advise attracts media attention in Beijing in 2018. CAO LU/XINHUA
Surging workload
Yang Yan, chief judge with the case-filing division at Beijing High People's Court, welcomed the introduction of one-stop services and diversified dispute resolutions, as they are helping to alleviate the burden on judges at a time when they are drowning in a rising flood of cases.
Statistics from Beijing High People's Court show that fewer than 3,000 judges in the capital resolved more than 998,000 cases in 2018, while the average number of cases solved by each judge rose to 357 from 257 in 2017.
The number of disputes is still surging as a result of rapid economic development and people's growing legal awareness. From January to August last year, 745,244 cases were filed with Beijing's courts, about 80,000 more than during the same period in 2018, the statistics showed.
"We have taken measures, such as the adoption of technologies, to intensify the efficiency of litigation, as well as guiding or encouraging people to end cases through diversified resolutions," Yang said, referring to the rapid growth in the number of disputes and the corresponding increase in hearings.
Haidian District People's Court deals with more than 100,000 cases a year. Local residents can obtain a wealth of legal services at the court's one-stop litigation service center, such as one-on-one consultations with lawyers, assistance with legal matters, help with writing and researching judicial documents, and case analysis to help them decide the best way to handle their dispute, according to Zhang.
To ensure efficient services, the court cooperated with four universities, including China University of Political Science and Law and Renmin University of China, and dispatched law school students as volunteers to share their knowledge and offer legal assistance to litigants.
"By providing supplementary knowledge, the volunteers can help our judges satisfy people's growing demand for simple legal services," Zhang said. "Meanwhile, the students can also guide some older people to better use the technology available at the center."
In addition, litigants who find it difficult to attend court can complete the legal process, such as filing cases, via the tribunal's online platforms, like its website and WeChat account.
"These online services prevent litigants' questions from being overlooked when the judges are busy hearing other disputes," Zhang said.
Last year, more than 13,000 cases were filed through the online platforms, and over 4,000 of them came via the court's WeChat account, he added.
Mediation
According to Yang, from Beijing High People's Court, while litigation is now more easily accessible, a large number of disputes have been resolved through mediation or arbitration services provided by the courts.
From January to August last year, 203,472 disputes were resolved through mediation in the capital's courts, a rise of 47 percent year-on-year, Yang said.
"Most of the cases were simple, with clear facts and sufficient evidence, so they didn't need to be resolved via time-consuming, costly, litigation," she said. "We must focus on helping people find the best way to end disputes."
Zhang agreed with that sentiment. In addition to mediation during hearings, his court has turned to 177 external mediators and eight mediation institutions, all of which are experts in the fields related to specific disputes.
"Some are legislators and political advisers who are good at solving family and inheritance disputes brought by community committees, while others are specialists from health associations and internet companies, who have deep knowledge of medical disputes and intellectual property," Zhang said.
Diverse resolutions
He added that the external mediators assist the court, and their professional services have accelerated dispute resolution.
Yang said that thanks to the non-litigation services, "judges have more time to deal with complicated disputes and study the laws to improve the quality of case hearings and further promote the rule of law".
Since August, many courts outside of Beijing have taken action to diversify dispute resolutions and ease access to litigation-related services.
Last year, mediation associations in Fujian province helped conclude about 119,000 disputes, while some 38,000 cases were resolved before their trial date, according to a report in People's Court Daily, the top court's official newspaper, last month.
From January to October, some 156,000 cases heard in provincial courts were ended by mediation or were concluded after litigants withdrew their lawsuits, a rise of 5.1 percent year-on-year, the paper said.
Zhang, from the court in Haidian, said many more improvements can be made, even though there have been a number of achievements in judicial efficiency and more cases have been resolved in diverse legal ways.
Most of the cases filed online are brought by representatives of internet and technology companies, "because lots of litigants, especially older ones, have insufficient trust in the online services", he said, adding that many people prefer to settle disputes via face-to-face discussions with judges.
Therefore, to further improve ease of access to litigation, it is essential to deepen people's trust so they will understand that the legal services provided online are the same as those offered in courts, he added.
He suggested that the internet software or technologies applied in building smart courts should be unified and updated promptly to ensure that the legal data and services they provide are accurate and of the highest quality.