SPC president meets with vice-president of French Supreme Administrative Court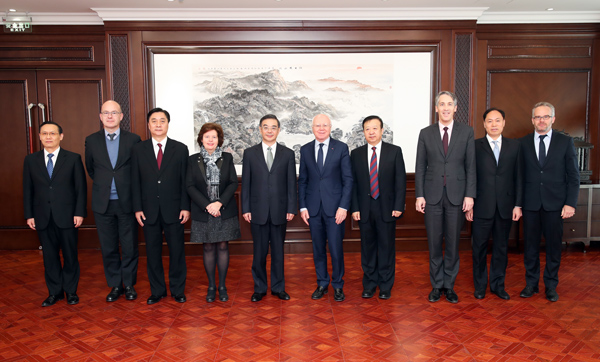 Zhou Qiang, president of the Supreme People's Court (SPC), meets with Bruno Russell, vice-president of the French Supreme Administrative Court, on Nov 19. [Photo/court.gov.cn]
Zhou Qiang, president of the Supreme People's Court (SPC) of China, met with Bruno Russell, vice-president of the French Supreme Administrative Court, on Nov 19.
Zhou said he believes that Russell's visit to SPC will surely enhance the friendship between Chinese and French judicial societies.
Talking about China's progress in the building of the rule of law and judicial reform, Zhou said that China attaches great importance to building of the rule of law and has made overall law-based governance one of its fundamental strategies and state policies.
He said that China is now deepening its judicial reform, accelerating the building of the smart court system and promoting modernization of trial systems and capability.
Chinese courts have been giving full play to the function of administrative trials, impartially hearing all types of administrative matters under the law, supporting and supervising the government's legal administration, continuing reforms and innovations, and constantly improving the administrative litigation system, so as to contribute to the building of law-based government. All these efforts have yielded favorable outcomes, according to Zhou.
He hopes that the two sides can deepen their pragmatic cooperation, increase personnel exchanges, and strengthen their communication on case studies, judge training and judicial cultures, Zhou said.
Russell said he is willing to deepen their cooperation in such areas as administrative trials, judge training and the protection of personal information.