SPC president calls for elevation of criminal trials to new level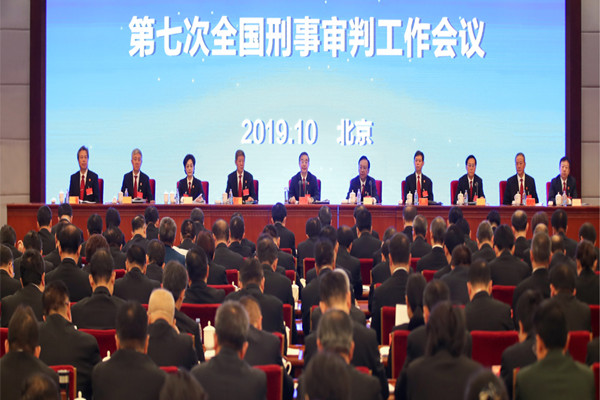 The seventh work conference on criminal trials is held in Beijing on Oct 17. (Photo/Court.gov.cn)
At the seventh work conference on criminal trials convened in Beijing on Oct 17, Zhou Qiang, president of the Supreme People's Court (SPC), stressed that criminal trials should better play their functions in order to provide judicial services and guarantee to promote safety and rule of law in China.
Because criminal trials involve the deprivation of a person's right to live, they are important for national security and social stability, as well as people's immediate interests, according to the conference.
Since the convention of the sixth work conference on criminal trials, courts at all levels have made progress on such fronts as protecting national security and social stability, the handling of corruption-related criminal cases, implementation of polices on criminal trials and judicial protection of human rights.
The conference emphasized the adaption of new concepts on criminal trials to the new requirements in the new era in order to let people feel justice and fairness in every judicial case,
It was also underscored that no corruption in the judicial system can be tolerated in order to ensure judicial impartiality and integrity.