SPC president visits Greece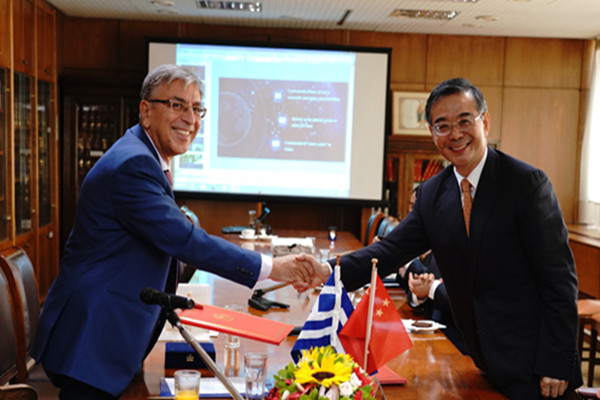 Zhou Qiang (R), president and chief justice of the Supreme People's Court, and the president of the supreme court of Greece, sign a memorandum of understanding on communication and cooperation between the supreme courts of the two countries. (Photo/court.gov.cn)
Invited by the Supreme Court of Greece, Zhou Qiang, president and chief justice of the Supreme People's Court (SPC), led a delegation to Greece from Sept 16 to 18.
During the visit, Zhou met with high-ranking officials from Greece's parliament, government and justice system, and signed a memorandum of understanding on communication and cooperation between the supreme courts of the two countries.
Zhou introduced China's effort in building the rule of law and the work of Chinese courts, saying that China is currently promoting reform of its judicial system and the building of smart courts. The country is also making efforts to build an open, dynamic, transparent and convenient judicial mechanism in order to let Chinese people feel the fairness and justice in every single case.
Zhou told Konstantinos Tasoulas, chairman of Greece's Parliament, that he expects the two countries to further strengthen their communication in the legal field.
When meeting with Panagiotis Pikrammenos, vice-premier of Greece, Zhou said that the SPC is willing to strengthen its ties with Greece's justice profession in order to consolidate the friendship between the two countries and to serve the building of the Belt and Road.
Meeting with top officials from Greece's justice system, Zhou said that he expects to broaden and deepen cooperation with Greece's justice system in such areas as judicial reform, maritime justice, application of information technologies, judge training, legal culture and bilateral judicial assistance.
During his Greek tour, Zhou also visited the University of Athens as well as a project run by China COSCO SHIPPING Corporation at the port of Piraeus.