Third China-Singapore Legal and Judicial Roundtable held at SPC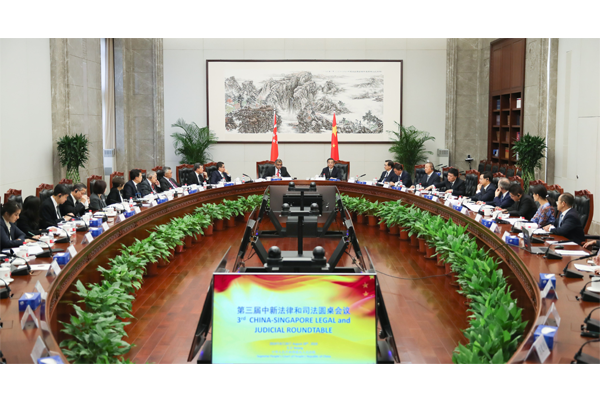 The Third China-Singapore Legal and Judicial Roundtable opens at the Supreme People's Court on Aug 28. [Photo/court.gov.cn]
The Third China-Singapore Legal and Judicial Roundtable convened at the Supreme People's Court on Aug 28, 2019.
Zhou Qiang, chief justice and president of the Supreme People's Court, and Sundaresh Menon, chief justice of the Supreme Court of Singapore, addressed the opening ceremony.
Zhou said that the China-Singapore Legal and Judicial Roundtable is a key platform for the two sides to cooperate in the legal and judicial field as well as in the building of the Belt and Road. It has boosted all-round and pragmatic bilateral cooperation, which benefited the people of the two countries and played an important role in maintaining regional peace and stability.
He said he hopes that with the idea of openness and inclusiveness, pragmatism and equality in mind, both sides will deepen their cooperation in such aspects as the training of judges and personnel exchanges, join hands in serving the construction of the Belt and Road, and provide effective judicial services and support for the development of a community with a shared future for mankind.
Menon said that China and Singapore have been maintaining friendly cooperation for a long time with more and more communication in the judicial field. With the spirit of mutual benefits and win-win results in mind, the roundtable has achieved a series of positive outcomes during the past two years.
He said he expects the participants of the roundtable to raised constructive proposals.
During the roundtable, discussions were focused on the four topics of the building of an international commercial case-hearing mechanism and case applications under the framework of the Belt and Road Initiative, judge training for hearing international commercial cases and cross-border bankruptcies.