China, DPRK top courts ink MoU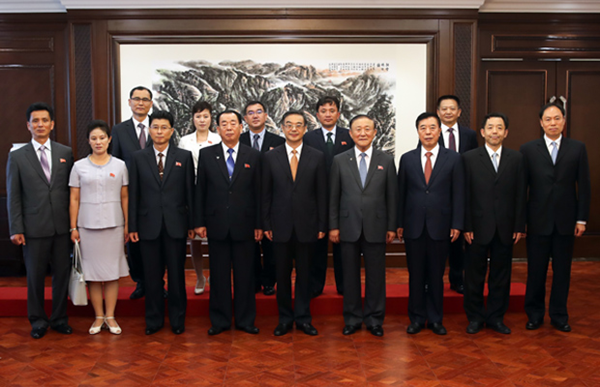 Zhou Qiang, chief justice and president of China's Supreme People's Court, meets with Kang Yun Sok, president of DPRK's Central Court, and his delegation on July 16 in Beijing. [Photo/court.gov.cn]
China's top court and the central court of the Democratic People's Republic of Korea signed an MoU on judicial cooperation and exchanges on July 16 in Beijing.
Zhou Qiang, chief justice and the president of China's Supreme People's Court, said he hopes Judicial agencies of the two countries to strengthen communication and cooperation in such fields as personnel visits, cases study and reviews of judicial culture.
Kang Yun Sok, president of DPRK's Central Court, in response to Zhou's expectations said that he hopes to further exchange and cooperation with China's courts to promote the two nations' friendship.
This year marks the 70th anniversary of establishment of diplomatic relations between the People's Republic of China and the DPRK. The two counties' cooperative relations are entering a new era, and their judicial cooperation and exchanges are in a good momentum, said Zhou.
He added that Kang's visit to China will create a new chapter for cooperation and exchange.
Zhou also briefed Kang and his delegation on China's rule of law and the work of its courts.
Courts at various levels in China continue to deepen judicial reform and speed up smart courts construction with a goal of letting everyone feel fairness and justice in every case, said Zhou.
The courts' trial quality and efficiency, as well as their judicial credit, have been improving, and people's sense of gain keeps increasing, added Zhou.