Courts should provide high-level judicial services for quality economic development, chief justice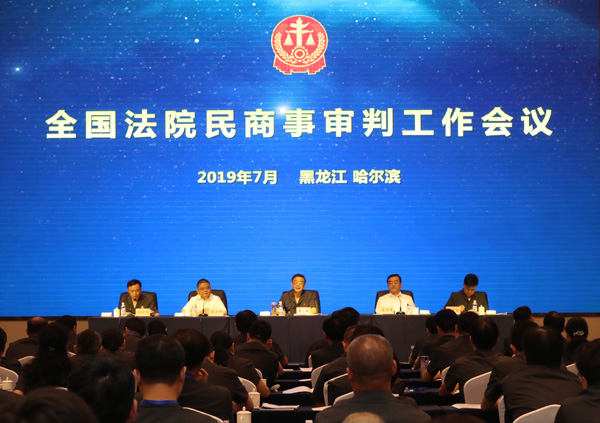 A work meeting on national courts' trial of civil and commercial cases is held on July 3 in Harbin, capital of Northeast China's Heilongjiang province. [Photo/court.gov.cn]
National courts should make full play of their judicial function of trying civil and commercial cases in order to provide high-level judicial services and a guarantee for quality economic development, China's chief justice urged.
Zhou Qiang, president of the Supreme People's Court and China's chief justice, made the requirement at a national work meeting on civil and commercial cases jurisdiction of courts that held on July 3 in Harbin, capital of Northeast China's Heilongjiang province.
Facing with the new judicial challenges and demands following recent high quality economic development, courts nationwide should actively update their trial concepts, enhance judicial capacities, improve judicial systems and strengthen team building, according to the conference, which said a stable, just, open and predictable business environment that established on the rule of law should be continued and strengthened.
In the near future, courts should focus on three major aspects, namely property right protection, financial cases trials and bankruptcy cases trials.
Building capable trial teams is also an important task that courts at various levels should fulfill.