Tourism courts provide one-stop solutions for conflict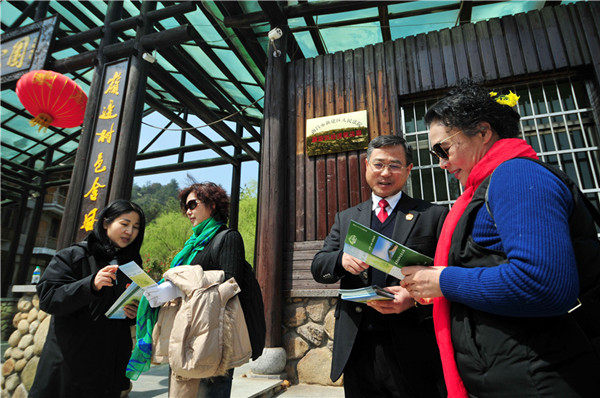 Staff members from a tourism court in Nanchang, Jiangxi, explain the court's functions to visitors. [PENG ZHAOZHI/XINHUA]
Mobile court
Liang's tourism court has established legal stations in five major scenic spots in Jinggangshan, and the hotline number is posted in prominent places.
Every day, Liang and his colleagues travel back and forth between the scenic spots in the minibus resolving disputes between operators and tourists. Liang said the service is akin to a mobile court.
The interior of the minibus resembles a courtroom, where judicial officials sit in the middle and the two parties sit on either side. If no solution can be found through mediation, cases can be filed within 10 minutes because the vehicle is equipped with a printer and a fax machine.
The people's court in Ruijin has also established a lower court to solve tourist-related disputes, though it does not use a minibus.
"When we handle these disputes, we hope tourist agencies and scenic spot operators will be encouraged to regulate their management and services," said Deng Zeping, presiding judge at Yeping court, which is under the jurisdiction of Ruijin People's Court.
In the past two years, Liang's environmental and tourism court has successfully dealt with more than 30 cases, while its counterpart in Ruijin has resolved nine such disputes, according to statistics provided by the two courts.
"The number of court cases is low, because lots of disputes are resolved through mediation or the litigants drop their legal action after accepting our suggestions," Liang said. He added that the peak times are weekends and festive periods, such as the seven-day National Day holiday, when he can field eight or nine calls a day.
The disputes are mainly centered on contracts for tourism services or purchases, and compensation for personal injury. The services he and his team offer, including mediation and case filing, are provided free of charge.