SPC describes five-year outline on tackling judgment enforcement difficulties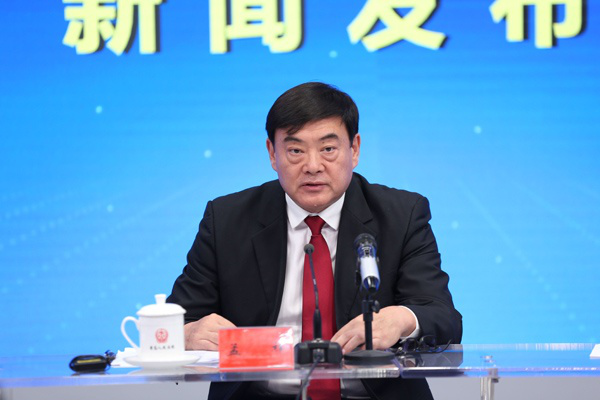 Meng Xiang, director of the SPC's enforcement bureau, hosts the press conference on June 11. [Photo/court.gov.cn]
The Supreme People's Court (SPC) outlined how difficulties in enforcing court orders should be tackled from 2019 to 2023 at a press conference on June 11 in Beijing.
Meng Xiang, director of the SPC's enforcement bureau, hosted the press conference.
The objective of his presentation was to say how the accomplishments made in the country's efforts to tackle difficulties in judgment enforcement will be consolidated, said Meng, adding that the consolidation will be done mainly through methods such as normalizing the organization of the work and the enforcement mode based on modern information technology as well as taking strong actions against nonstandard enforcement.
Meng said another purpose of the briefing was to improve the long-term mechanism on tackling difficulties in enforcing court orders.
Meng said there are five major tasks in solving such difficulties. Comprehensive management is needed as is improvement in the general structure of the work. There must also be of more local laws, regulations and documents, improvement in the system of enforcement through joint meetings and application of the social credibility system. The outline also suggested optimizing the legal and supporting systems in compulsory execution.
The research and drafting of a civil compulsory enforcement law will be completed by the end of this year, according to the outline.
The construction of informatization is also considered a major task in improving judgment enforcement.
For instance, the systems of execution informatization will be improved, including the online check-and-control system, credit rewarding and punishing system, executive property assessment system and online judicial auction system.
Courts nationwide should continue to strengthen the construction of enforcement standardization and have "zero tolerance" towards nonstandard enforcement.
To deepen the reform of judgment enforcement, new working modes and other innovative systems will be adopted.
Meng described enforcement team construction from four aspects, including enforcement of team management of courts at different levels, team capability improvement and professionalism construction.