SPC promises sound legal environment for private businesses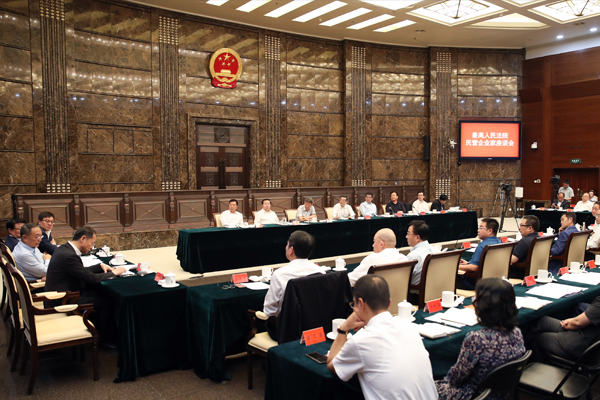 The Supreme People's Court held a symposium of private businessmen in Beijing on May 30. [Photo/court.gov.cn]
China will continue to exercise judicial functions to protect the legitimate rights and interests of private businessmen, said Zhou Qiang, chief justice and president of the Supreme People's Court (SPC) of China.
Zhou made the remarks at a symposium of private businessmen held by the SPC on May 30 in Beijing.
A rule of law business environment for private firms which is fair, stable, transparent and predictable is being cultivated to provide legal guarantee and services for high-quality economic development, said Zhou.
Representatives of China's private entrepreneurs who are also NPC deputies or CPPCC members were invited to the meeting, such as Zhang Wenzhong, founder and president of Wumart, one of the biggest retail businesses in China, and Liu Chuanzhi, founder of Lenovo, a global large PC vendor.
The private entrepreneurs talked about their legal problems and difficulties at the symposium and gave advice on strengthening judicial protection and a sound legal environment.
Zhou said the SPC appreciates their advice and will put valuable insights into judicial interpretations and policies.
The SPC will also comprehensively sort judicial interpretations and abolish all that are unfair to private businesses.