Training strengthened for bilingual ethnic legal officials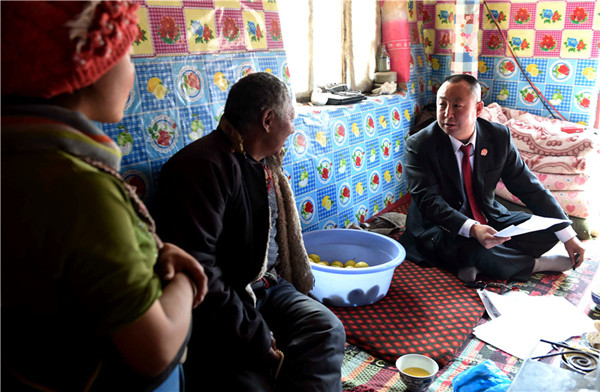 Bilingual judge Tsering Wangyel (right) explains legal procedures to Tibetans in Xiahe county, Gannan Tibetan autonomous prefecture, Gansu province. ZHOU HUA/XINHUA
Greater understanding
On April 11, when Penpa Chungdak presided over a bilingual case involving a dispute about payment for a consignment of raw steel, she managed to resolve the problem in just one hour.
After accepting a proposal made by the bench, the defendant, a Tibetan named Phuntsok Tobgyal, agreed to pay the outstanding sum of 90,000 yuan ($13,307) in two installments by the end of the year.
The 30-year-old defendant, a Shigatse resident, said he had applied to have his case heard in both Mandarin and Tibetan so he would fully understand the core of the dispute.
"The bench interpreted and related the law clearly in Tibetan. I did not want to miss a single word of the trial, because it related to my interests," he said.
The plaintiff, a man surnamed Chen from Sichuan province, had no complaints about the bilingual proceedings: "I don't care how long the trial lasts. All I care about is whether the defendant can understand what I say and when he can pay me back."
Penpa Chungdak was sanguine about the extra time required for the proceedings.
"Ensuring that litigants can understand the focus of disputes and are able to implement the rulings is more important," she said.
Sherab Chodron, chief judge of the criminal division at Chengguan District People's Court in Lhasa, capital of Tibet, agreed. She said that before she presides over a complicated or unusual bilingual trial she sometimes has to write case facts and legal terms in her notebook in both Mandarin and Tibetan.
She added that dialects are an inescapable feature of ethnic languages, just like in Mandarin.
"That means we have to ask other judges for help and then become accustomed to the different accents of the litigants when handling cases," she said.
"But the effort is worthwhile. Accurate interpretation not only makes my hearings more efficient, but also allows litigants to better understand each other during discussions and the exchange of evidence."
However, not all litigants agree with the idea that judges should act as interpreters during trials, and some prefer to use their own interpreter, which is also allowed under the law, she said.