Training strengthened for bilingual ethnic legal officials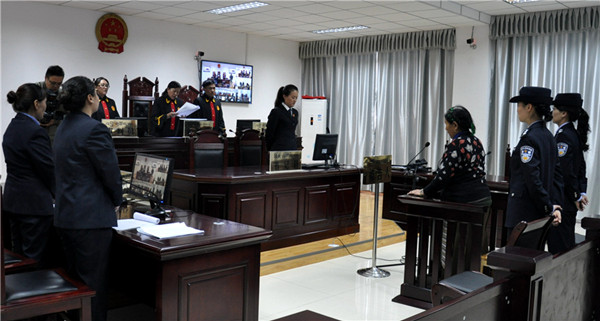 A judge delivers a bilingual ruling in a case at Chengguan District People's Court in Lhasa, capital of the Tibet autonomous region, last year. [Photo provided to China Daily]
Move aims to improve services offered by judges in areas with large ethnic populations. Cao Yin reports from Lhasa, Tibet autonomous region.
Editor's note: This is the fourth in a series of stories about the Tibet autonomous region, focusing on the area's history, poverty alleviation measures, society, and the cultural and business sectors.
At 10 am on April 11, Penpa Chungdak announced the opening of a court case in Mandarin as usual, but she also repeated the words in Tibetan.
"I used the two languages because the Tibetan defendant does not speak Mandarin very well, so he applied for a bilingual trial," said the judge from Samdrubze District People's Court in Shigatse city, Tibet autonomous region.
She explained that under the Chinese Constitution and the law, members of ethnic groups have the right to have their cases heard in their own language.
"So, what I did was abide by the law to protect the rights of ethnic litigants," she said. "Also, it's a good way of resolving disputes, even though bilingual trials often double the length of the hearings."
She added that not all judicial officials from ethnic groups are capable of working as bilingual judges, because "explaining the law accurately in Tibetan is not an easy task".
Last year, the Supreme People's Court, China's highest judicial chamber, arranged for nine high people's courts in areas with large ethnic populations, such as the provinces of Gansu, Qinghai and Sichuan, as well as the Tibet and Inner Mongolia autonomous regions, to identify and assess bilingual legal talent.
China has 1,140 qualified bilingual ethnic judges, 337 of whom are Tibetan.
Since the 18th National Congress of the Communist Party of China in 2012, the top court has intensified non-workplace training of judicial officials in ethnic areas to better resolve disputes, maintain stability and strengthen the rule of law.
The top court has also worked with the National Ethnic Affairs Commission and several universities to improve the quality of training for such officials.
For example, in 2015, the top court joined the commission to launch a project to train 1,500 bilingual ethnic judges by 2020, while it joined the universities to establish a number of training bases a year later.
In addition, the top court has arranged for legal professionals, linguists and senior judges to compile textbooks to improve trainees' writing skills. To date, four Mandarin-Mongolian books and 10 Mandarin-Tibetan books have been published.
Penpa Chungdak welcomed the measures: "It's essential to improve people's language skills because good communication can resolve disputes more effectively."
However, despite the progress made by the top court in educating bilingual ethnic judges, problems still exist, including a dearth of suitably qualified legal talent and the time-consuming nature of the training.
The top court said that this year it will cooperate further with the commission and universities to improve the content and effectiveness of the training program.