Top court judge stresses importance of private enterprise protection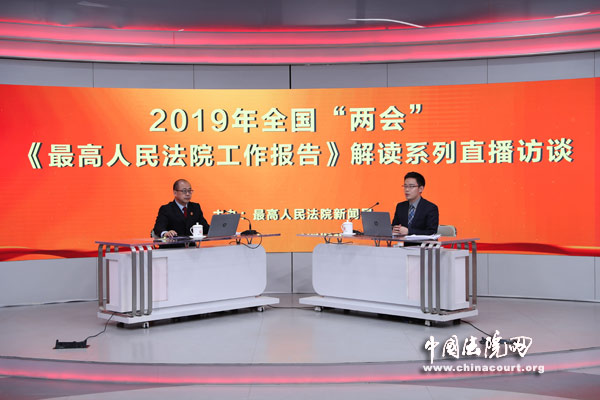 An interview is held on March 13 to elaborate the Supreme People's Court's work report delivered at a plenary meeting of the Second Session of the 13th National People's Congress. [Photo/chinacourt.org]
Yan Maokun, president of the Supreme People's Court's (SPC) Trial Supervision Tribunal, elaborated on the work of courts at all levels on protection of property and legitimate rights and interests of entrepreneurs in 2018 at an interview on March 13.
According to Yan, disputes easily occur among entrepreneurs and shareholders in enterprises and the interests of all people involved will be damaged without proper treatment.
He summarized the SPC's efforts in property and entrepreneurs' interests protection from four aspects -- guiding policies, influential cases, guiding cases and supervision.
Yan said in 2018, the SPC released several documents to safeguard and support private enterprises.
For instance, a notice of creating a sound and stable business climate for innovation and entrepreneurship was issued in January, which includes ten regulations and protects not only the entrepreneurs' personal and property rights but also their intellectual property rights and managerial authority.
The document also urged courts to rectify wrongful convictions related to property rights and encouraged judicial staffs to optimize judicial interpretations and to raise entrepreneurs' awareness of protecting their legal rights.
In addition, the SPC tried three influential property and entrepreneur-related cases and released 13 guiding cases in 2018, which showed that such matters have become a bigger concern of the courts. The guiding cases covered a wide range of trial fields including criminal, civil, intellectual property and administrative issues.
The above cases are used as references and guidance in similar cases for courts at all levels in China.
Generally speaking, compulsory measures like detention are used with caution, and only when necessary to restrict the party's freedom, Yang explained.
In terms of supervision, Yan said that the judicial work of courts at all levels should be studied by the SPC.
In October 2018, five inspection teams were sent to nine provinces to collect trial work and experiences of local courts and the teams also gave their suggestions to improve courts' work.
Yan Maokun, president of the Supreme People's Court's Trial Supervision Tribunal, speaks about the work of courts at all levels on property protection in 2018 on the basis of the SPC's work report on March 13. [Photo/chinacourt.org]