Courts keeping tabs on those who remain in debt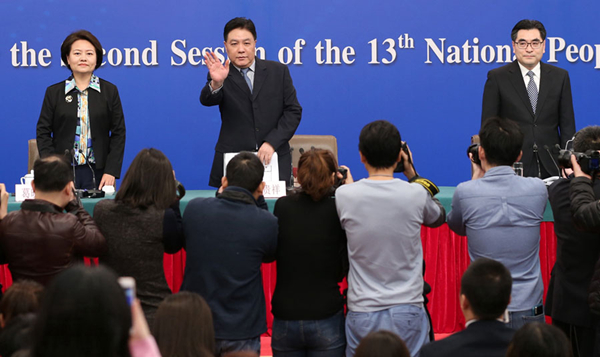 Liu Guixiang (center), a member of the judicial committee of the Supreme People's Court, Wu Xielin (right), president of the Fujian High People's Court, and Ge Xiaoyan, president of the Jiangxi High People's Court, answer questions on law enforcement at a news conference during the ongoing session of the 13th National People's Congress in Beijing on Tuesday. [Photo by WANG ZHUANGFEI/CHINA DAILY]
More than 3.6 million people who previously owed money have complied with court rulings to repay since China's top court promised to resolve verdict enforcement problems three years ago, the Supreme People's Court said in its annual work report on Tuesday.
The top court pledged in March 2016 that it would spend two or three years to resolve difficulties in enforcing rulings for those owing money, whether it be employees suing bosses for unpaid salaries or banks suing borrowers for unreturned loans.
Since then, greater efforts have been made to address the situation, according to the report delivered to the second session of the 13th National People's Congress in Beijing.
Since March 2016, 4.4 trillion yuan ($656 billion) owed by defaulters has been repaid, it said.
"We established a ruling implementation mechanism with Chinese characteristics, improving the rule of law and social credibility," said Zhou Qiang, chief justice of the top court, while explaining the report to national legislators.
The top court also took various measures to fight against defaulters, such as adding their names to a publicly accessible online blacklist which restricts their consumption of goods and services, said the report.
So far, the top court has disclosed personal information of the listed defaulters, including their names and identity card numbers, in 13.22 million cases, and signed agreements with 60 government entities to jointly punish the defaulters by barring them from buying airline or high-speed train tickets - along with dozens of other restrictions - until their debts are settled, it said.
In the past three years, defaulters on the list have been blocked from taking 19.41 million flights and 5.61 million rail journeys, it said.
The top court also shared defaulter data with 16 departments and more than 3,900 banks and financial institutions to quickly assess their assets, such as savings, stocks, vehicles and real estate, it said.
In addition, courts nationwide strictly punished defaulters who still ignored court rulings despite being repeatedly encouraged to repay their debts. Of these, 13,000 were penalized for the crime of refusing to do as civil courts ordered, it added.
Liu Guixiang, a member of the top court's judicial committee, said at a news conference on Tuesday that the battle against defaulters will not stop. "We're drafting a law on compulsory ruling implementation, hoping to submit it to the top legislature for review within this year," he said.
As for protecting the privacy of those owing money, Ge Xiaoyan, president of the Jiangxi High People's Court, said the information disclosure has legal backing and strictly follows procedures.
"We also blur some parts of the disclosed ID numbers to better guarantee defaulters' privacy," she added.