New laws will better protect security and ecology, NPC spokesman says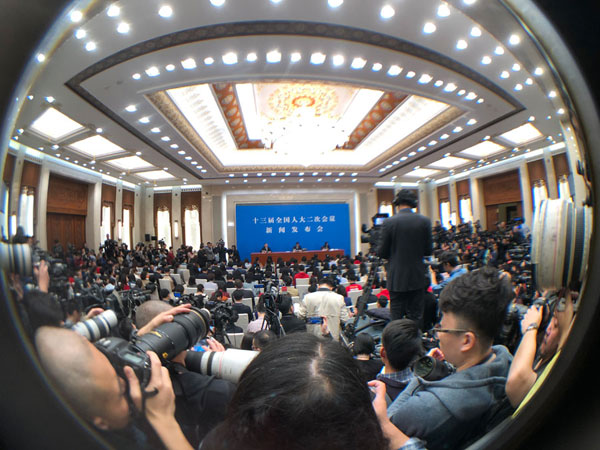 The 13th National People's Congress, the top legislature, holds a news conference in Beijing on March 4, 2019. [Photo by Kuang Linhua/chinadaily.com.cn]
Greater focus will be applied in the drafting, revising and deliberating of laws on national security and ecology this year to better prevent and tackle risks and improve environmental protection, the spokesman of the second session of the 13th National People's Congress said on Monday.
The NPC Standing Committee, the country's top legislative body, "is planning to draft laws on export controls, data security and bio security to strengthen our capacity to defend and stop risks," the spokesman Zhang Yesui, said at the session's press conference.
He noted that the legislature will also consider making a law on community correction and revising the Criminal Law to improve social governance.
Legislation on people's livelihoods and ecology will be also improved this year. For example, the NPC Standing Committee will speed up deliberations relating to the civil code, and continue making legislation on medical care and health, he said.
"We'll pay more efforts to introduce a law on protecting the Yangtze River to provide better legal support for the regional environment," he added.
In addition, the legislative work relating to the national reforms, the market order and institutional restructures will be also accelerated, he said.
The 13th NPC deliberated and passed the amendment to the Constitution during its first session in March last year, providing a strong constitutional guarantee for maintaining and developing Socialism with Chinese Characteristics for the New Era.
Also, a law that clarified responsibilities and power of the supervisory commissions was also passed at that time, boosting the campaign against corruption, Zhang said during Monday's news conference.
The 13th NPC Standing Committee adopted eight pieces of the legislation, revised 47 pieces and passed nine decisions related to legal issues and important matters in 2018.
For example, the country's first e-commerce Law was adopted, making clearer the responsibilities and duties of e-commerce operators and ordering them not to mislead consumers, Zhang said.
In addition, the Individual Tax Law was revised and came into effect, while the country's legal system on the environmental protection was established after the Soil Pollution Prevention and Control Law was passed.