Devoted to judicial fairness and justice in rural area
Zhai Shuquan, president of the Halahai People's Court in Jilin province and a National Model Judge, passed away on Jan 30 at the age of 58.
Zhai was one of the judges who preferred to live in rural areas.
A single-storey building covering less than 10 sq m with simple desks and chairs and heated by burning coal was the court where Zhai worked for more than 20 years.
It was in this room Zhai concluded more than 2,000 cases, with no wrongful convictions or overtime hearings.
Six presidents left the court in the past 20 years, but Zhai had never thought of leaving.
The court had to be renovated and supplied with all kinds of equipment.
Zhai Shuquan mediates for a party to avoid litigation. [Photo/court.gov.cn]
A mediation office titled "Zhai Shuquan Workshop" was also built to resolve disputes and organize legal publicity activities.
"I was born in a farmer's home and my experience let me understand farmers' judicial needs," Zhai said.
Zhai was a Chinese teacher before he entered the Halahai People' Court. His brother was involved in a dispute, which was reason Zhai started to acquire legal knowledge.
Years of living in rural areas made Zhai understood farmers' lives, their thinking patterns and their needs.
Most cases accepted by the court may have involved small amounts but as they related to marriage, domestic affairs and debt disputes to the parties they were important. If the disputes were not settled properly more serious acts might occur and could lead to criminal cases.
Zhai recalled a case he dealt with 20 years ago. It was about a couple wishing to divorce only because of 700 yuan ($103.82).
"The husband lost the money to buy a donkey in gambling. It was a large amount of money for a farmer's family," Zhai explained.
The wife wanted to divorce but the husband swore that if the judgment required them to divorce, he would kill his wife.
To avoid the conflict becoming more serious, Zhai advised the couple for a whole day, analyzing the affair for them. Finally, the husband admitted his fault and promised to not hurt his wife.
Zhai made efforts to settle disputes among farmers and their families and was delighted to see a harmonious village develop.
He also integrated legal regulations and knowledge with farmers' traditional values, which made it easier for farmers to understand the legal system and to accept the judgments.
In 1991, Zhai initiated a "Pre-divorce school" to deal with marriage disputes. He also summarized ten mediation methods based on his years of experience which included listening, figuring out details and focusing on the key of a case.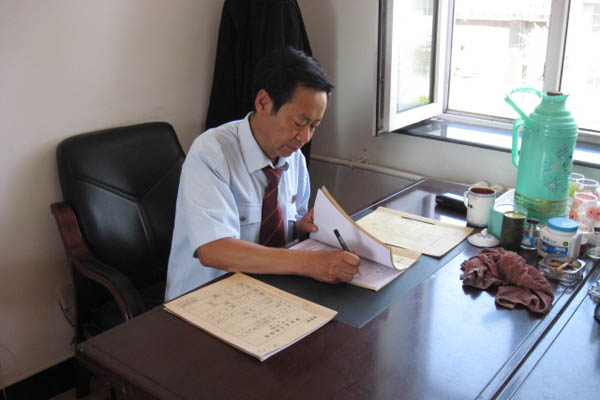 Zhai Shuquan at work in Halahai People's Court [Photo/court.gov.cn]
Zhai regarded the principle of "maintaining judicial fairness and justice" as a duty for the past more than 20 years.
Besides resolving disputes, he also attempted to lower the cost of litigation for the parties and tried to mediate instead of litigate the disputes.
He often said that a judge might deal with thousands of cases in his or her life but a party might only enter the court once. An unfair treatment would be an unforgettable experience for them and might make them disbelieve in the law.
"Protecting the legal rights and interests of a party means gaining more trust of the public," Zhai stressed.
He used to say that a rich legal knowledge is not enough to properly handle all kinds of rural cases; treating every party sincerely and dealing with disputes fairly and efficiently is also important.
He used to said that he would insist on remaining at the frontier of China's trial work and continue to contribute to maintaining a stable and sound village.