Top court president inspects courts in Anhui province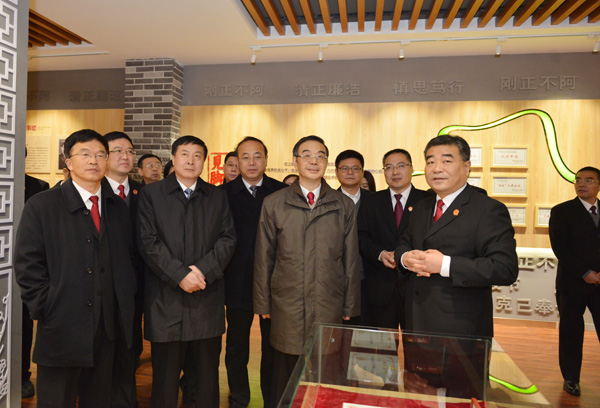 SPC President Zhou Qiang visits the Xiaogang People's Court in Fengyang county, Anhui province, on Dec 27. [Photo/court.gov.cn]
Providing judicial support and guarantees for high-quality economic growth was stressed by Supreme People's Court (SPC) President Zhou Qiang during his inspection in Anhui province from Dec 26 to 27.
Zhou visited the Chuzhou Intermediate People's Court on Dec 26. The court is working on improving the mechanism of alternative disputes resolution (ADR) to make it more adoptable by all types of mediation organizations.
Online mediation and remote petition systems to serve parties at a distance were also recently developed by the court.
Zhou affirmed the court's efforts and said ADR should be promoted continuously and besides online mediation, online litigation service should also be used to help resolve disputes.
Xiaogang village in Fengyang County, Anhui province is the birth place of China's rural reform. Zhou visited the Xiaogang People's Court on Dec 27 and inspected the construction of the technology tribunal.
He said the court should be a model of support for village revitalization and properly deal with agricultural-related disputes to protect villagers' rights and interests and promote rural reform. It's necessary to create a sound legal environment for rural economic growth.
Zhou pointed out that courts in Anhui province have performed well in supporting rural revitalization, resolving the problem of difficult enforcement, deepening judicial reform and building teams of professional judges, which has created a sound legal environment for high-quality economic growth.
In terms of future work, Zhou required that courts should strengthen protection of intellectual property and create a fair, open and transparent business climate for private enterprises.
Meanwhile, advancing the fight against gang-related crimes and punishing all kinds of criminals in accordance with the law to keep a stable society and make people gain a stronger sense of fulfillment, happiness and security was also emphasized.
Zhou added that courts should continue to make efforts to deepen judicial reform by constructing litigation centers, upgrading the use of ADR and offering judicial support to rural revitalization.