Reform and opening-up promotes China's judicial development
An exhibition themed on "courts development under reform and opening-up" held by the Supreme People's Court (SPC) opened on Dec 10 at the China Court Museum.
The exhibition shows the history of China's courts and judicial development in seven sections including resolving the problem of difficult enforcement, deepening judicial reforms, building professional teams, launching Internet courts and increasing judicial cooperation through videos, audios and reports.
Zhou Qiang, chief justice and president of the SPC, stressed at the opening ceremony that courts at various levels in China must faithfully perform the duties conferred by the Constitution and laws and let the people feel fairness and justice in each judicial case.
This year marks the 40th anniversary of China's reform and opening-up and China's judicial system has developed extensively under the policy.
According to Zhou, the exhibition is intended to display China's judicial achievement and its experience in the past 40 years and help officers and judicial personnel deepen their knowledge of the Chinese Communist Party and the significance of building the rule of law of socialism with Chinese characteristics.
He also encouraged courts to focus on pushing forward judicial reforms and building Internet courts.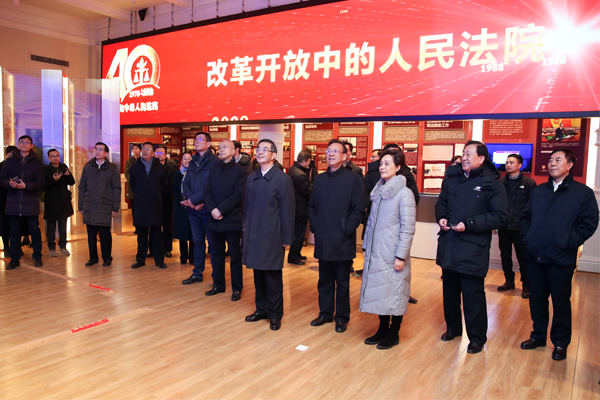 SPC leaders, members of the Standing Committee of the National People's Congress, leaders of the Law Press and some other staffs at the SPC attend the exhibition themed on 'courts development under the reform and opening-up" on Dec 10. [Photo/court.gov.cn]