Encouraging lawyers' engagement to resolve disputes
New commitments to pilot work on defense lawyers in all criminal cases and lawyer-supported mediation were promoted by the Supreme People's Court (SPC) and the Ministry of Justice (MOJ) at a promotion conference on Nov 29.
The work of lawyers for the defense in criminal cases includes acting as duty counsel a part of the public defender system. Lawyer-supported mediation refers to cases in which lawyers are entrusted and authorized by the two parties to handle the dispute as mediators.
Both pilot activities are intended to meet the need of the trial-centered criminal procedure reform and encourage lawyers to play a role in alternative dispute resolution.
According to the meeting, lawyer defense work in criminal cases will be generalized in the first eight pilot provincial regions, including Jiangsu, Fujian and Shandong provinces and Tianjin. Capital cities and more than half of other counties, districts and cities are also required to adopt the work.
It is required that at least one lawyer-supported mediation office should be launched in each county, district or city.
According to statistics from the SPC and MOJ, since the system of lawyers in all criminal cases was established a year ago, the rate of lawyer involvement in defense cases in which ordinary procedure is applied in Guangdong province reached 92.8 percent and the rate for trials of first instance in Beijing was 95 percent
By the end of this September, more than 100,000 defendants had benefited from the system, which strengthened human rights protection and maintained judicial fairness.
Most pilot offices have been set up at local courts, legal service centers, bar associations and law firms and to date, 2,357 lawyer-supported mediation offices have been established in 11 provinces and over 37,000 cases have been mediated. The parties of 16,000 cases reached agreement.
At the conference, Xiong Xuanguo, vice-minister of justice, said that the pilot works are important moves to optimize China's criminal procedure and civil procedure and play a role in China's moves to comprehensively advancing the rule of law.
Xiong also encouraged lawyers to get involved in the mediation work and urged related departments to deal with problems including lawyer resources and lack of funds.
Yang Wanming, vice-president of the SPC, required courts at various levels in China to establish effective defense mechanisms, normalize mediation systems and technology-supported mediation to safeguard parties' legal rights and promote social equity and justice.
Also present at the meeting were judicial staffs of provincial and municipal high courts, and leaders of provincial and municipal justice departments.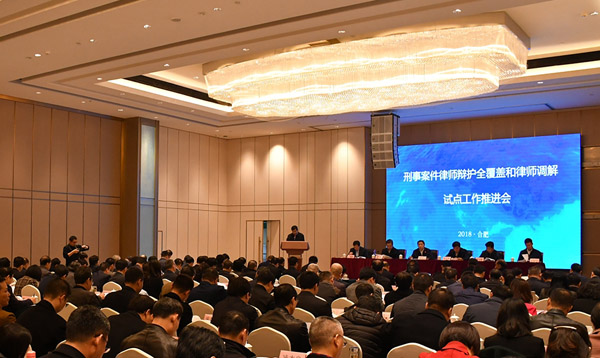 A promotion conference to report achievement and give new requirements of the pilot work on full coverage of lawyer defense work in criminal cases and lawyer-supported mediation is held by the Supreme People's Court (SPC) and the Ministry of Justice (MOJ) on Nov 29 in Hefei, Anhui province. [Photo/court.gov.cn]