SPC head: Strengthen research on ethnic legal culture and judicial practice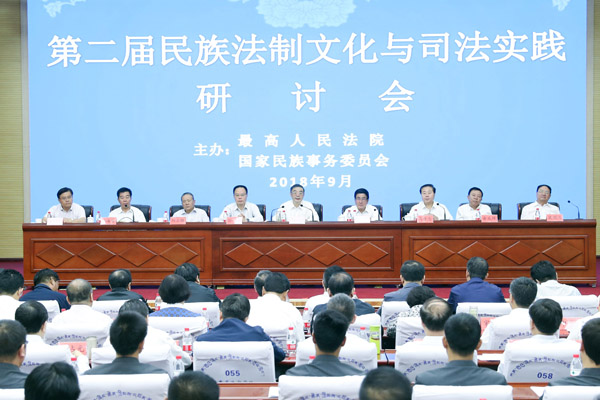 The second minority legal culture and judicial practice seminar is hosted by the SPC and State Ethnic Affairs Commission on Sept 6.[Photo/ The People's Courts News and Communication Agency}
The head of China's top court pointed out the need to strengthen research on the legal culture of ethnic groups and judicial practice to promote prosperity and development of ethnic regions on Sept 6.
Zhou Qiang, president and chief justice of the Supreme People's Court (SPC), said in a seminar on ethnic legal system culture and judicial practice that it's necessary to crackdown on crime, properly handle disputes and contradictions in regions inhabited by ethnic minorities and to protect their legal interests.
It's required to reinforce bilingual legal talent team building, open up ways of training and make full use of bilingual bases and relevant research institution to guarantee a source of talents to serve the development of minority regions .
He also emphasized that it's necessary to strengthen research on minority legal culture by carrying out investigation and research with attention to judicial practice, inheriting minority legal culture and opening training bases for exchanges between judges to develop Chinese legal culture.
Lin Duo, secretary of the Gansu Provincial Party Committee , addressed the opening ceremony of the seminar and expressed his gratitude for the support of the SPC and neighboring provinces.
He said that Gansu province is working to speed up legal system construction in regions inhabited by minority groups, strengthen legal publicity in such areas and emphasize research on minority legal culture, according to Zhou.