Second China-Singapore legal and judicial roundtable held in Singapore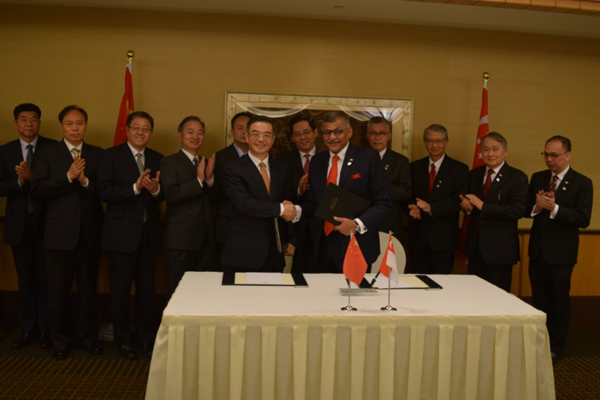 Zhou Qiang, head of China's top court and Sundaresh Menon, chief justice of Singapore, sign a guidance memorandum of the Supreme People's Court of China and the Supreme Court of Singapore on recognizing and enforcing money judgments in commercial cases. [Photo by Zhang Yanbing/ The People's Courts News and Communication Agency]
The head of the Supreme People's Court in China addressed the opening and closing ceremony in a second China-Singapore legal and judicial roundtable held on Aug 31 in Singapore.
During the conference, the two sides discussed issues such as litigation and alternative dispute resolution, legal issues arising from the Belt and Road Initiative, technology and courts, and development of international commercial law. They shared their experience and were able to reach a broad consensus.
Zhou said that Singapore was one of the first countries to support the Belt and Road Initiative. And in recent years, it has carried out close exchanges and cooperation in finance, technology, education and culture with China, which helps promote regional stability and prosperity.
Last year, the top Chinese and Singaporean courts set up a Sino-Singaporean legal and judicial roundtable mechanism and held its first meeting. It was the first judicial platform set up between the two countries and will play a significant role in their judicial relationship.
Zhou also pointed out that the judicial departments of the two countries should strengthen exchanges and also come up with proposals for deepening cooperation in judicial reform and openness, court information technology, court management and case study.
He also advised improving the cooperation system and promoting the fact that Sino-Singaporean judicial cooperation can be normalized and institutionalized.
Sundaresh Menon reviewed the history of Sino-Singaporean friendship, saying that the top courts of both countries used it as a foundation of the China-Singapore legal and judicial roundtable system for promotion of judicial cooperation.