SPC head urges efforts to improve court ruling enforcement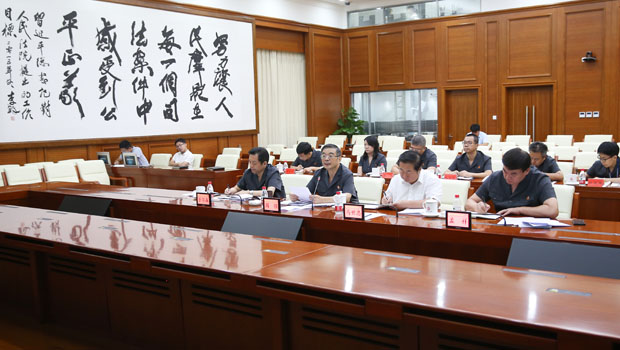 Zhou Qiang supervises court verdict enforcement work in SPC commanding center. [Photo by Sun Ruofeng/ The People's Court and Communication Agency]
The Head of the Supreme People's Court (SPC) gave instructions on court verdict enforcement work in the command center of the court by video on Aug 21.
Zhou Qiang, chief justice and president of the SPC, listened to reports on resolution of enforcement difficulties through a live connection to courts in Liaoning, Shandong, Hubei, Hunan and Shaanxi provinces and issued requirements.
He focused on enforcement problems and put forward a timetable to rectify the work by a deadline.
Zhou also praised the sound experience and practices of local courts and required them to be publicized to the whole country. For example, Hubei province has improved local legislation to guarantee the enforcement work, and courts in Changsha in Hunan province have dispatched special command vehicles.
This year, major progress has been achieved in resolving the difficulties and there is good development trend, according to Zhou.
He said that he hopes that all the officials will continue to work and try to overcome all the enforcement difficulties.
He added that it's necessary to analyze case enforcement work and take up specific measures to break any difficulties. The work should be subject to supervision from legislators, political advisers and society as a whole.