SPC judicial committee holds plenary session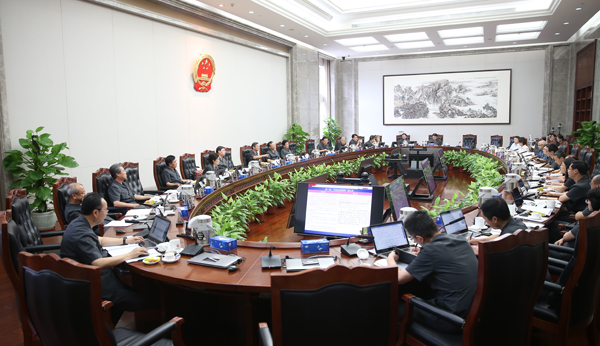 A SPC judicial committee plenary session is held on July 30. [Photo by Sun Ruofeng/ The People's Courts News and Communication Agency]
The Supreme People's Court (SPC) held a judicial committee plenary session on July 30.
Zhou Qiang, chief justice and president of the SPC, said that the judicial committee system is an important part of a socialist judicial system with Chinese characteristics.
Courts across the country are working to promote judicial committee system reform, improve the operation system and determine the range of cases discussed by the judicial committee.
Deputies to the National People's Congress, members of the National Committee of the CPPCC, experts and scholars were invited to attend the plenary session as the SPC is subject to supervision by the NPC and CPPCC.
In recent years, NPC deputies, CPPCC National Committee members and experts and scholars from all fields have been invited by the SPC judicial committee to discuss major judicial interpretations and normative documents at the committee's meetings. This practice has made the judicial policy-making process more open and transparent and more in accordance with judicial rules, social conditions and public opinion, Zhou said.
SPC will also continue to improve the judicial committee system and implement reform, giving full play to the role of the committee and meeting the public's judicial demands to realize social fairness and justice.
Rules on revisions of interpretations of criminal cases about credit card management were discussed and passed at the meeting. The rules will be released after being amended according to the meeting participants' suggestions.