SPC head: Improve socialism trial system with Chinese characteristics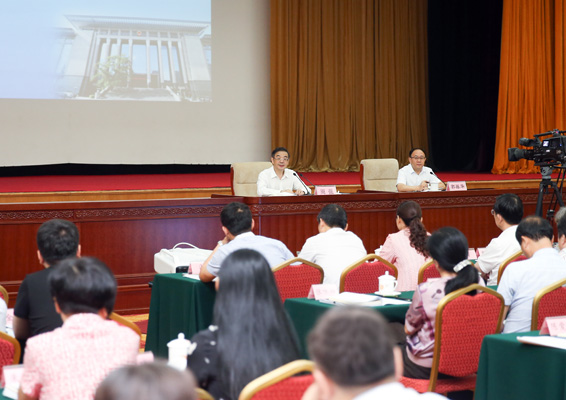 Zhou Qiang, head of the Supreme People's Court, delivers a speech at a training session for National People's Congress deputies on July 18.
The head of China's Supreme People's Court (SPC) pointed out on July 18 the need for a socialist trial system with Chinese characteristics to make all litigants feel fairly and justly treated.
Zhou Qiang, president and chief justice of the SPC, said that in the trial system courts hear and make rulings in criminal, civil and administrative cases. And China has now set up a reasonable socialist trial system with Chinese characteristics in line with national conditions.
Since the reform and opening up, and especially since the opening of the 18th National Congress of the Communist Party of China, judicial practice fully proves that a socialist trial system suitable for China and bearing Chinese characteristics has emerged.
Zhou also outlined the trial conditions of the SPC with a focus on common concerns, and especially the heated topics in the work report of the Supreme People's Court reviewed in the two sessions.
For people to feel they are fairly and justly treated in every case, it's required to realize a fair legal system that necessarily creates justice for each litigant, Zhou said.
Courts at all levels should advocate socialist core values, work to prevent and correct wrongful convictions and strengthen judicial protection to ensure social stability and promotion of social fairness and justice, according to Zhou.
He added that in the future, the courts, subject to supervision by the National People's Congress, will boost contact with NPC deputies and listen to their advice about resolving problems and promoting the work of the court.