SPC head meets counterpart of Morocco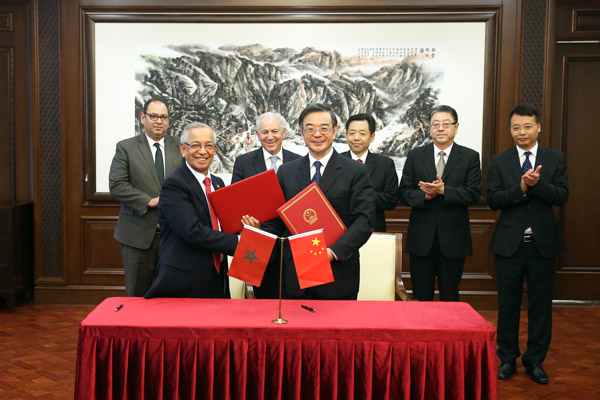 Zhou Qiang signs a memorandum of understanding on justice exchanges and cooperation with Mustafa Faris, president of the Supreme Court of Morocco. [Photo by Sun Ruofeng/The People's Courts News and Communication Agency]
The head of the Supreme People's Court (SPC) of China met with a Moroccan delegation led by Mustafa Faris, president of the Supreme Court of Morocco, on July 3.
Zhou Qiang, chief justice and president of SPC, welcomed the delegation, saying that China and Morocco maintain a sound friendship in the judicial field. And he believed that the visit will inevitably help deepen exchanges and cooperation for the development of the Sino-Moroccan relationship.
Zhou outlined the condition of China's legal construction and judicial reform, saying that China's courts are working to implement socialism with Chinese characteristics and deepen judicial system reform with the goal of making people feel fairness and justice in every case.
The courts are also working to promote judicial openness and construction of maritime courts and build an open, dynamic, and transparent judicial power operation system for public convenience to ensure that the courts can exercise judicial authority in independent and just ways, according to Zhou.
Zhou said that SPC is willing to strengthen exchanges and cooperation with the Supreme Court of Morocco and provide judicial guarantees of cooperation and exchanges between two countries in all fields for the development of their bilateral relationship.