SPC president meets UN, French dignitaries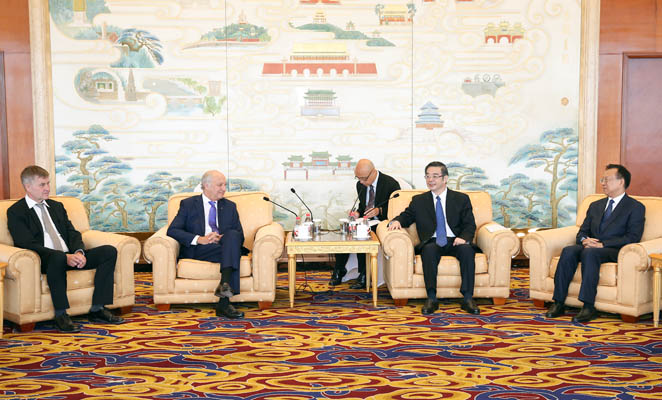 Zhou Qiang (Second Right) meets with Laurent Fabius, chairman of the Constitutional Council of the French Republic, and Eric Solheim, executive director of the United Nations Environment Programme (UNEP), on July 2. [Photo by Sun Ruofeng/The People's Courts News and Communication Agency]
The head of the Supreme People's Court (SPC) met with Laurent Fabius, chairman of the Constitutional Council of the French Republic, and Eric Solheim, executive director of the United Nations Environment Programme (UNEP), on July 2.
Zhou Qiang, chief justice and president of the SPC, welcomed the guests and outlined the condition of China's ecological civilization construction and environmental judicature.
He said that China attaches high importance to ecological civilization construction and has been working to promote it in answer to people's increasing need for a sound and beautiful environment.
Development of ecological civilization and building a beautiful China were written into the Constitution in the First Session of the 13th National People's Congress (NPC).
Zhou said that China maintains contact with the UNEP and France in environmental judicature and has achieved a series of fruitful results.
And he said that he hopes that the two sides can strengthen practical cooperation in personnel training and case study for the promotion of global environmental governance and protection of global ecological environments.
Fabius praised China's achievements in environmental protection, saying that China made impressive moves in strengthening ecological environment protection and dealing with global climate change.
Solheim said that China can harmonize environmental protection and economic development and make use of the environment to achieve economic prosperity.
They said that justice plays an important role in environmental protection and expressed their wishes to carry out comprehensive and deep judicial cooperation with China for protection of global ecological environments.