Head of SPC meets prosecutor general of Ukraine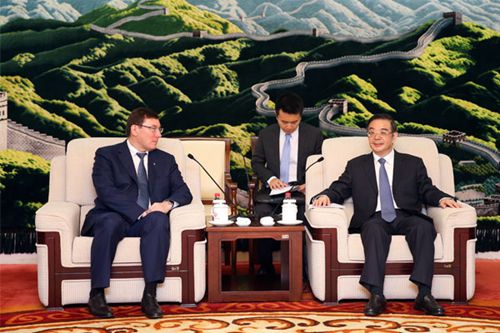 Zhou Qiang (Right) meets with Yuriy Lutsenko (Left), Ukraine's prosecutor general, on June 26.
The head of Supreme People's Court (SPC) met with a delegation led by Yuriy Lutsenko, Ukraine's prosecutor general, on June 26.
Zhou Qiang, chief justice and president of SPC, welcomed the delegation and outlined conditions for China's legal construction and judicial reform.
Chinese courts are working to deepen judicial system reform and expedite construction of a just, efficient and authoritative socialist judicial system to ensure that they can exercise judicial power in an independent way and make people feel they are fairly treated in every case, according to Zhou.
They are also working to promote judicial openness and set up platforms for information disclosure including trial procedures, judgment documents and executive information as part of a dynamic, open, transparent judicial system for people's convenience, Zhou said.
Zhou pointed out that it's necessary to make full use of information technology to strengthen smart court construction and promote modernization of trial systems and competence.
China and Ukraine have maintained a sound relationship since establishment of diplomatic relations, Zhou said, adding that exchanges have been carried out in various fields and that those in the judicial area are becoming increasingly frequent.
Zhou expressed his hope that the two countries will strengthen judicial contact and exchange ideas in reform, informatization construction and case studies for development of law-related matters in the two countries.
Lutsenko expressed his gratitude to Zhou for the meeting, speaking highly of the achievements in China's legal construction. He said that he was willing to promote friendship and cooperation between the judicial authorities of China and Ukraine.