Head of SPC meets French justice minister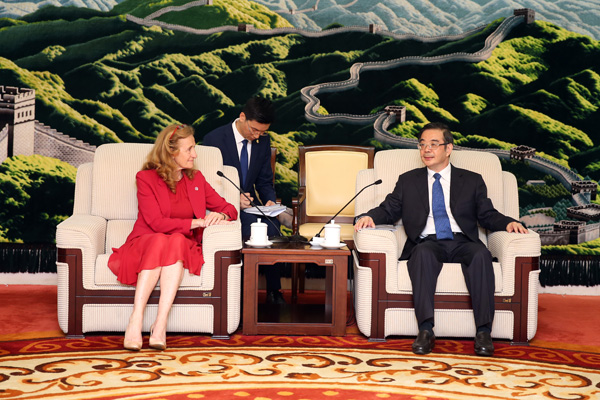 Zhou Qiang (Right) meets with Nicole Belloubet, minister of justice and keeper of the seals of France. [Photo/court.gov.cn]
The head of the Supreme People's Court (SPC) met with a delegation led by Nicole Belloubet, minister of justice and keeper of the seals of France, on June 25.
Zhou Qiang, chief justice and president of the SPC, welcomed the delegation, saying that Sino-French friendship has a long history and exchanges between judicial institutions of the two countries have become frequent.
He said he believed that the visit will surely deepen judicial exchanges and cooperation for promotion of friendship.
He briefly introduced China's legal construction and judicial reform, saying that China appreciates the importance of legal construction.
Chinese courts are working to promote judicial system reform, expedite construction of smart courts and promote modernization of trial systems to increase their ability to make people feel they are treated in a fair and just way, according to Zhou.
They are also working to implement systematic judicial responsibility and promote reform of the file registration system and criminal trial proceedings with trials as the focus as well as reform of the people's assessor system, Zhou said.
Talking about deepening judicial openness, Zhou said that it's necessary to expedite the construction of a just, efficient and authoritative socialist judicial system to ensure that the courts can exercise judicial power.
Chinese courts have been working to strengthen smart court construction and promote deep integration between modern science and technology and the work of the court, Zhou said. And as a result, judicial quality and efficiency have constantly improved and people's sense of gain has been reinforced.
Zhou said he hopes that the two countries will strengthen judicial contacts and carry out cooperation in international commercial trials, judge training and legal culture for the promotion of judicial work.
Belloubet expressed her gratitude to Zhou for the visit and highly praised the achievements in China's judicial reform and information applicationand the desire to strengthen exchanges and cooperation with China's judicial organs for the promotion of bilateral relations.