Senior official: Overall planning on crime crackdown should be strengthened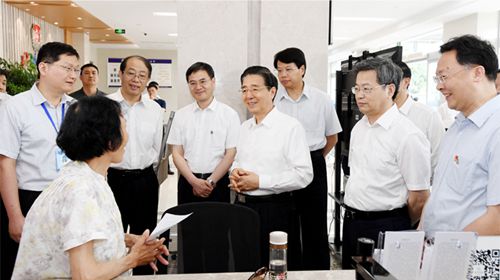 Guo Shengkun learns about the working conditions from the staff in Zhenjiang public legal service center. [Photo by Hao Fan/www.chinacourt.org]
A senior security official asked for the overall planning and application of strategy in special crime crackdown to be strengthened in the inspection to East China's Jiangsu province from June 6 to 8.
Guo Shengkun, member of the Political Bureau of the Communist Party of China (CPC) Central Committee and head of the Commission for Political and Legal Affairs of the CPC Central Committee, said during the inspection that it's necessary to strengthen the Party's leadership over crime crackdown.
He went to some communities and villages of Xuzhou to learn about how people felt about security and investigated special crime crackdown condition in Xuanwu substation of Nanjing Municipal Public Security Bureau.
Guo also listened to the advices from officials in Zhenjiang public legal service center, Nanjing People's Procuratorate and Nanjing Gulou District People's Court, saying that it's essential to carry out overall planning over political and legal institutional reform and judicial system reform for the smooth growth of political and legal reform.