Top court pledges to strictly punish verdict defaulters
People who illegally oppose the enforcement of verdicts and those who fail to comply with court rulings will continue to be strictly punished, China's top court vowed on Tuesday.
"Chinese courts have taken steps against defaulters in recent years, including imposing restrictions in their daily lives to push verdict implementation. Among the measures, punishment has never been absent," Meng Xiang, head of the Supreme People's Court's enforcement bureau, told a news conference in Beijing.
Under the Criminal Law, people able to comply with court mandated penalties yet ignore enforcement and those who avoid enforcement illegally should be charged with the crime of refusing court rulings and be given criminal punishments, including detention and fines.
Meng said Chinese courts had punished 8,687 defaulters for the crime from January 2015 to April this year.
The top court issued a judicial interpretation on how to handle such crimes in July 2015, stipulating that not only police and prosecutors, but also individuals are allowed to sue people who take malicious measures to reject verdict enforcement.
"The aim is to press defaulters more, and then to ensure our rulings can be implemented quickly," Meng said.
In August 2015, for example, a court in Jiangsu province ended a case with mediation, asking a defendant surnamed Xu to pay 800,000 yuan ($125,000) to a plaintiff surnamed Lu, according to a statement issued by the top court.
Lu then approached the Jiangsu court again after Xu ignored the ruling. During the court's investigation, it found Xu could afford the money, as he had received some compensation from a factory demolition. But Xu faked documents when the court ordered him to report his properties, the statement said.
The Jiangsu court gave Xu 15 days of criminal detention twice, in September and October 2016, but he still refused to comply with the verdict, it said.
On May 9, 2017, the court sentenced Xu to three years in prison for the crime of refusing court rulings, it added.
"As for those who don't allow the enforcement of court rulings through violations or seriously negative attitudes, courts around the country must strictly punish them," Meng said.
Since 2015, the top court has taken various measures against defaulters, as the problem often surfaces in public complaints.
In that year it established a website that discloses details of defaulters' cases to encourage them to comply with court rulings.
The top court has since prohibited defaulters from buying airline and high-speed train tickets. As of March, 10.15 million airplane trips and 3.91 million rail trips had been blocked.
caoyin@chinadaily.com.cn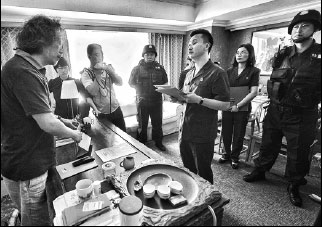 Judges and police officers enforce a court verdict at a defaulter's office in Beijing on Tuesday.Guo Qian / Legal Evening News
(China Daily 06/06/2018 page4)