SPC emphasizes implementation of People's Assessors Law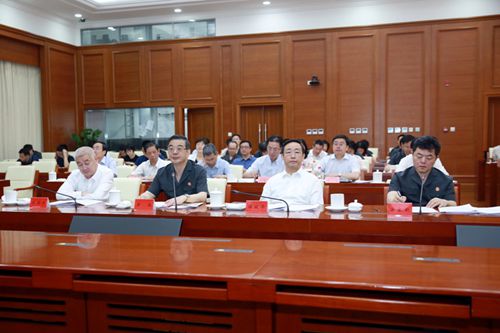 Zhou Qiang, president of the Supreme People's Court (SPC), addresses a video joint conference on implementation of the Law on People's Assessors on May 29. [Photo by Xu Lixin/The People's Courts News and Communication Agency]
The head of China's top court pointed out the need to comprehensively implement the Law on People's Assessors in a joint conference held by the Supreme People's Court (SPC) and the Ministry of Justice on May 29.
Zhou Qiang, chief justice and president of SPC, said that the people's assessor system is a good way for citizens to learn about justice, take part in it and supervise it.
The Law on People's Assessors, which aims to regulate the selection and clarify the duties of people's assessors - citizens who observe case hearings and share their opinions on the evidence presented in court - was adopted at the bimonthly session of the Standing Committee of the National People's Congress, the country's top legislature, on April 27.
Zhou emphasized the value of giving full play to the role of the people assessor system and cooperating with judicial administrative departments in selection of the assessors to ensure a wealth of interested participating citizens.
According to Zhou it's also necessary to improve management of the return of people's assessors to their daily lives and provide a security system and strengthened protection over their personal possessions and home safety.
He also mentioned the necessity of strengthening coordination, guidance and supervision over the assessor work.
And he added that education, training, publicity and guidance should be reinforced to improve the assessors' ability to perform their duty. Overall, a sound environment for smooth implementation of the Law on People's Assessors should be established.