SPC president emphasizes need for court proceeding justice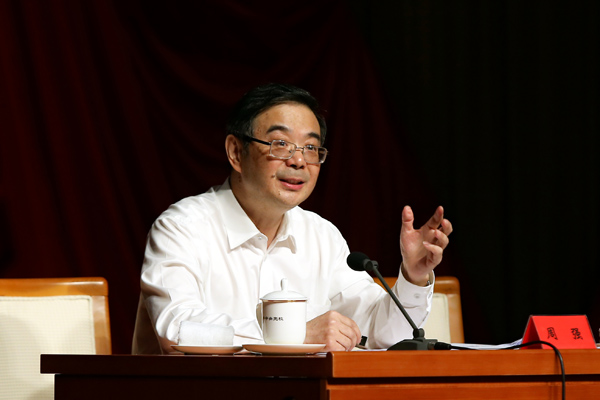 Zhou Qiang gives a report on May 5. [Photo by Sun Ruofeng/ The People's Courts News and Communication Agency]
The head of China's top court, Zhou Qiang, pointed out the importance of upholding fair judicial procedures to safeguard social justice on May 5.
He said that since the opening of the 18th National Congress of the Communist Party of China, high attention has been paid to ensuring that judicial processes reflect the will and propositions of the Party and its and the people's requirements for legal construction.
Zhou added that a series of expositions has mapped out the plan for China's legal construction, helped promote the country's safety and provided an action guide for political and legal work in the new era.
He emphasized that People' courts should strive to promote fairness and justice and realize that justice that serves the people focuses on their expectations of those two outcomes.
It's also necessary for courts to be aware of the need to follow the path of socialism with Chinese characteristics, implement new people-oriented developmental concepts and protect people's legal interests in meeting their growing needs, said Zhou.
Zhou also pointed out the importance of promoting judicial system reform and strengthening informatization construction. Trial quality and efficiency should be improved and the trial system should be modernized to better safeguard social fairness and justice.