SPC head urges smart court construction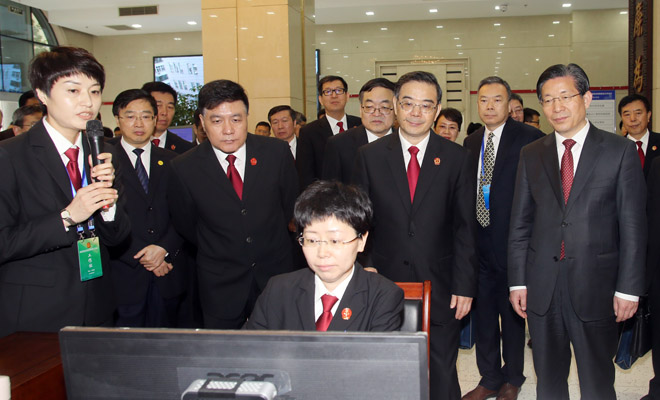 Zhou Qiang, chief justice and president of the Supreme People's Court, inspects courts on April 27 in Shijiazhuang, North China's Hebei province. [Photo by Ding Lixin/People's Court Daily]
The head of China's top court urged tribunals of various levels to further promote the construction of smart courts, and to push ahead with the modernization of the trial system, including increase of its capacity, at a meeting on April 27 in Shijiazhuang, North China's Hebei province.
Zhou Qiang, chief justice and president of the Supreme People's Court (SPC), made the remarks at the 5th meeting for network security and informatization of national courts.
The big data and Internet Plus strategies should be fully implemented, according to Zhou.
He said informatization of courts should be part of a "profound self-reform" of people's courts.
The smart court system -- which is Internet-based, transparent and intelligent -- is taking shape in the country, added Zhou.
Innovative programs of core techniques are sources of and provide impetus for the further development of smart courts, said Zhou.