Chinese top security chief meets with Russian senior security official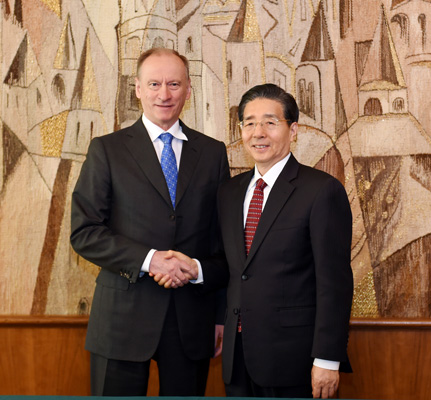 Guo Shengkun (R) meets with Nikolai Patrushev on April 23 in Moscow.
China's top security official Guo Shengkun met with Nikolai Patrushev, Secretary of the Security Council of Russia, on April 23 in Moscow.
Guo, chief of the Commission for Political and Legal Affairs of the Communist Party of China Central Committee, said that the Sino-Russian comprehensive strategic partnership of coordination continues to develop healthily and steadily.
The two countries have already concluded important domestic political agendas. China has entered a new era of socialism with Chinese characteristics and Russia advances steadily in enriching the country and people. The Sino-Russian relationship now faces new opportunities for further development, according to Guo.
Law-enforcement security cooperation is an important component of the Sino-Russian relationship and demonstrates high-level political mutual trust between the two sides, Guo said.
He also pointed out that China is willing to work with Russia to implement the consensus reached between the respective top leaders, deepen anti-terrorism and cybersecurity cooperation and address all kinds of conventional and non-conventional security threats.
Guo added that it's necessary to protect the security interests of the two countries, promote safety and build a community of shared future for mankind.
Patrushev said that the Russian-Sino relationship has progressed smoothly and fruitfully through cooperation.
He also said that Russia is willing to work with China to strengthen cooperation in law-enforcement security and jointly tackle various risks and challenges.