SPC head joins legislators in panel discussion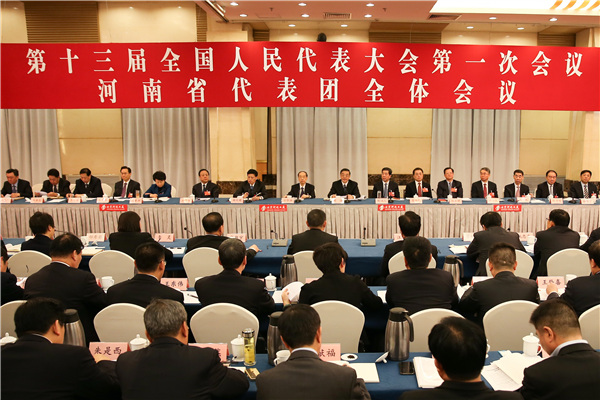 Zhou Qiang, chief justice and president of the Supreme People's Court, joins a panel discussion with the deputies from Henan province at the first session of the 13th National People's Congress in Beijing on March 7, 2018. [Photo/chinacourt.org]
The head of China's top court, Zhou Qiang, highlighted the draft amendment to China's Constitution and socialist rule of law with Chinese characteristics when joining deputies to the 13th National People's Congress (NPC) in a panel discussion on March 7.
Joining deputies from central China's Henan province, Zhou, chief justice and president of the Supreme People's Court (SPC), said he fully agrees with and supports the draft amendment.
The draft amendment to China's Constitution effectively reflects the need of modern national governance and socialist rule of law, said Zhou.
The amendment also effectively promotes democracy, gathers wisdom from all walks of life and shows the common will of the Communist Party of China and the people, he added.
At the discussion, he pledged uttermost efforts to enable the public to "see justice and fairness in every judicial case."
Zhou said courts around the country should fulfill their obligations and shoulder their responsibilities in the new era.
He also called for more efforts in promoting social fairness and justice, safeguarding people's well-being, and creating a safe political environment for economic and social development.
Zhou emphasized that a legal environment of fairness and high-quality service helps to boost the sense of gain, happiness and security of the people.
At the panel discussion, Zhou also exchanged ideas with other deputies on the Government Work Report as well as judicial system reform, smart court construction and the legal talent pool.