SPC head meets with rector of Université de Montréal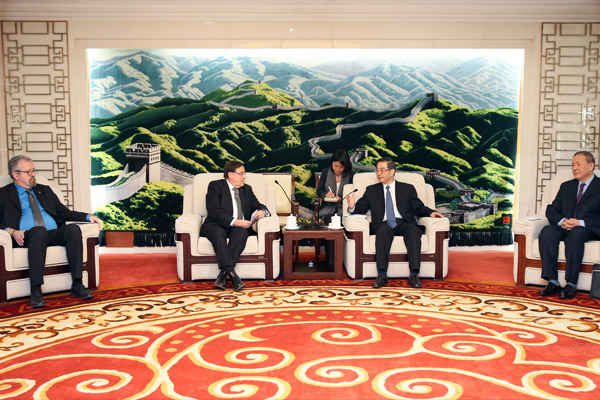 Zhou Qiang (2nd right), chief justice and president of the Supreme People's Court, meets with Guy Breton, rector of the Université de Montréal on Jan 29 in Beijing. [Photo by Sun Ruofeng/People's Court Daily]
The head of China's top court Zhou Qiang met with a visiting team led by Guy Breton, rector of the Université de Montréal on Jan 29 in Beijing.
Zhou, chief justice and president of the Supreme People's Court (SPC), welcomed the Canadian team, saying that cooperation in the legal sector between the two countries has deepened over the past few years.
The pragmatic cooperation between the National Judges College in China and the Université de Montréal is full of richness, according to Zhou.
National Judges College is an educational institute under the SPC. Established in 1997, the college, with two separate campuses across Beijing, is responsible for training judges of the country.
He said the two schools should deepen exchanges and extend communication in areas like judicial training and case studies and artificial intelligence in the law.
He called for more efforts from both sides to contribute to the development of the rule of law in the two countries and even across all of human society.
Breton echoed Zhou as he spoke highly of the achievements reached so far between the two sides.
He also expressed his willingness to conduct more extensive cooperation with the SPC.
As a public research university in Montreal, Quebec of Canada, the Université de Montréal offers more than 650 undergraduate programmes and graduate programmes, including 71 doctoral programmes.