China to provide improved legal services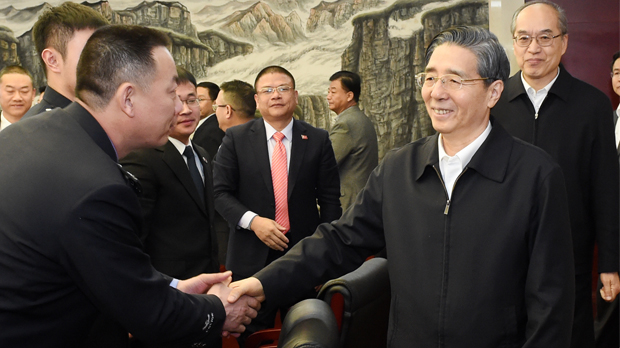 Guo Shengkun, member of the Political Bureau of the Communist Party of China (CPC) Central Committee and head of the Commission for Political and Legal Affairs of the CPC Central Committee, shakes hands with representatives at a symposium honoring model legal service workers. [Photo by Hao Fan/People's Court Daily]
A senior Party official on Jan 11 pledged that judicial personnel and legal service providers should work hard to better meet the legal demands of the people.
Guo Shengkun, member of the Political Bureau of the Communist Party of China (CPC) Central Committee and head of the Commission for Political and Legal Affairs of the CPC Central Committee, made the remarks at a symposium honoring model legal service workers.
After listening to the speeches of five workers, Guo demanded that the construction of the public legal service system should be accelerated.
Legal services should be inclusive, precise, timely and effective, he added.
He spoke highly of the working performance at the grassroots level and encouraged the model staff to make greater contributions to social harmony and stability.
Practices at the basic level and innovation must be respected, said Guo, adding that judicial administration reform should be more pragmatic, people-centered and dynamic.
He called on all sides to care for the judicial personnel and legal service providers and provide them with powerful safeguards as they work at the grassroots level.