SPC head: special supervisors to play enhanced role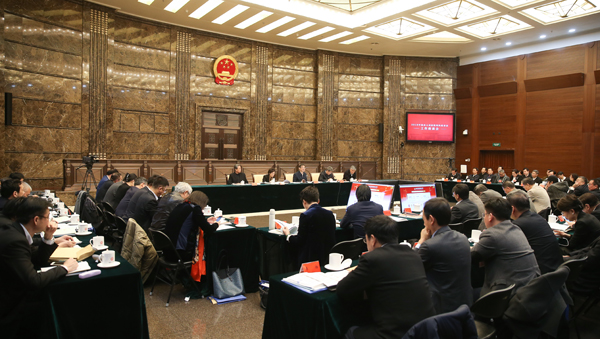 The Supreme People's Court holds a symposium to promote the role of special supervisors on Jan 10 in Beijing. [Photo by Sun Ruofeng/People's Court Daily]
The head of China's top court called for a greater contribution from special supervisors in facilitating rule of law in the country at a symposium held on Jan 10 in Beijing.
Zhou Qiang, chief justice and president of the Supreme People's Court (SPC), said that special supervisors play a crucial part in promoting justice for the people.
They also advance justice and thus contribute to the rule of law in China, Zhou said.
Since 2013, the SPC has hired 100 special supervisors, who make suggestions and generally help to supervise the work of courts.
Special supervisors should feel responsible to report real difficulties and problems and help to create favorable conditions for advancing the rule of law, noted Zhou.