SPC head calls for improved traditional legal culture research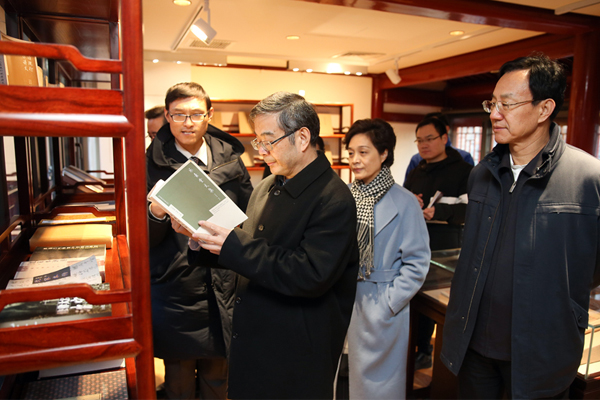 Zhou Qiang (center), chief justice and president of the Supreme People's Court, visits the newly-renovated former residence of Shen Jiaben, a famous scholar and jurist in the Qing Dynasty on Jan 9. [Photo/People's Court Daily]
The head of China's top court called for strengthening traditional legal culture research and further promoting the rule of law when visiting the former residence of a famous Chinese scholar and jurist on Jan 9.
Zhou Qiang, chief justice and president of the Supreme People's Court (SPC), spoke highly of the renovation and exhibition of the former residence of Shen Jiaben, a famous scholar and jurist in the Qing Dynasty (1644-1911).
Born in East China's Zhejiang province, Shen was in charge of the revision of the several codes, abolishing many cruel punishments such as "slow slicing" (lingchi).
After two years' renovation sponsored by the SPC and the Beijing municipal government, the residence, located at the No 1 Jinjing Hutong, Chaoyang district of Beijing, displays a full load of precious historical materials, including objects and pictures.
Zhou demanded that the site be used as a location for presenting China's traditional legal culture.
It should be built into a research and education center, said Zhou.