Getting people closer to law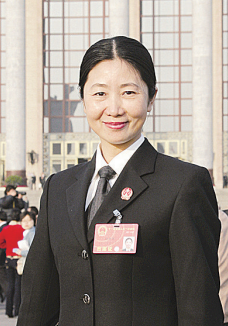 Judge Chen Yanping [Photo/People's Court Daily]
"Only when the people come closer to law, can they have a better understanding and belief in law, " said Chen Yanping, a basic level judge from East China's Jiangsu province.
On April 26, the Jingjiang people's court, where Chen works, set up a circuit court at the Changzhou University, having a public trial of an illegal detention case. Two of the group members involved in the case are in their early 20s.
"I heard heated discussions regarding the case among college students," Chen recalled. "The impulse is evil and youngsters are impulsive."
Chen said they set up the circuit court at a college days ahead of the Youth Day (May 4) to help young people gain better understanding on law.
During her nearly-30-year career, Chen has heard more than 3,000 cases.
"Nothing makes me sadder than criminal's ignorance regarding law," said the judge. "Judges not only hear cases but also serve as law promoters."
It is the social responsibility of every legal worker, added Chen.