Setting good example for judges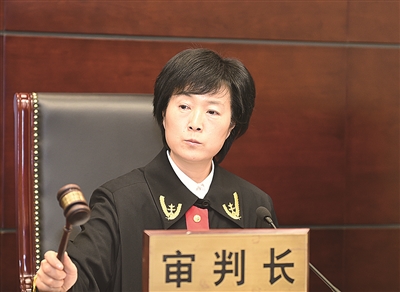 Judge Cai Zhiping [Photo/People's Court Daily]
From an ordinary court clerk to an assistant judge, from a judge to a head of a court, Cai Zhiping, president of the Tianjin No 1 intermediate people's court, has been working hard to shoulder her duty and mission of practicing the socialist rule of law.
Cai takes the lead in hearing cases. Each year, she hears at least six complex cases with concentration and responsibility.
Since she became the court leader, over 400 cases have been heard at the Tianjin No 1 intermediate people's court with no complaint or amendments reported.
"Judicial reform is the route we must take to break the bottlenecks of more cases for fewer judges and low efficiency. We should be reform advocates and remove vested interests," said Cai.
The performance of a court rests on the sense of gain of the people, according to Cai.
"The demand of the people for fairness and justice rests not only on fair judgments and their enforcement, but also on care and warmth in the judgment and enforcement," said Cai.
In order to improve trial quality, Cai has also helped to set up third party evaluations and a conflict resolution mechanism.