Delegate's 'sense of mission' at the congress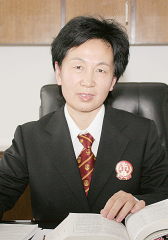 Judge Chen Meirong [Photo/People's Court Daily ]
Having worked as a judge at a basic court in the Northwest China's Ningxia Hui autonomous region for 31 years, Chen Meirong, a soft-spoken thin lady with short hair, has won numerous awards for her outstanding work.
Chen said she has faced many complex contradictions and disputes over the years, meanwhile she also knows very well the magnitude of impact each of her trails have on people's lives.
For Chen, diversified dispute settlement mechanism is of vital importance and she combines conciliation and trial, with conciliation being her top priority.
Over 90 percent of her cases went into conciliation proceedings and the mediation rates stands at approximately 82 percent.
She has also come up with twelve methods for conciliation, which have been promoted and studied by other judges.