Solutions are in the details for noted tribunal judge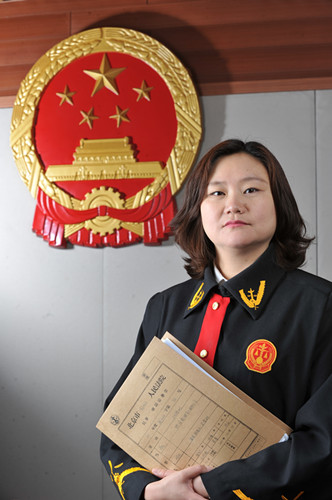 Judge Liu Li [Photo/chinadaily.com.cn]
Liu Li likes to make notes of her most important cases and, so far, she has more than five such notebooks.
She regards these notebooks as her treasures, "as they record all the key points of the cases as well as the personalities of each litigant, which has helped me resolve the conflicts," she said.
The notes also include her memories of the cases and views of the law. "That's the value of being a judge," she said.
Liu, 40, joined Beijing Chaoyang District People's Court after graduating from law school in 2002. Now she is the head of the court's Aoyuncun Tribunal.
She first came to the public's attention in 2011 after hearing a high-profile divorce dispute between Li Yang, the well-known founder of the "Crazy English" language school, and his ex-wife, Kim Lee, a US national.
The case quickly made media headlines because it involved a foreign litigant and the accusations related to domestic violence.
As the judge responsible for the case, Liu conducted background research into domestic violence, specifically looking at studies on how to verify claims of violence and collect evidence.
"There was pressure, but I always told myself not to be affected by what the public said and take the case hearing as a priority," she said.
In February 2013, after four trials, she ruled that Lee had been a victim of abuse. She also granted Lee the capital's first request for a personal protection order, forbidding Li from threatening her.
The verdict was seen as a milestone in cases of domestic violence in China, and it also sped up the introduction of related legislation. In March last year, the country's first Anti-Domestic Violence Law came into effect.
The court in Chaoyang, hears most of the city's foreign-related civil disputes and deals with more than 30,000 civil cases each year.
Of the more than 3,000 disputes the Aoyuncun Tribunal handled every year up to 2015, nearly 30 percent involved foreigners or were related to real estate.
As the nation pushes forward with judicial reform, the number of cases is soaring. Liu's tribunal released a statement in September saying that it heard more than 5,000 cases last year, and the figure may be as high as 6,000.
But of 33 judicial officers in the tribunal, only 13 have the right to hear cases. How to streamline the hearing process and efficiently assign work is Liu's biggest challenge.
"I take the initiative to hear more complicated cases, as I am the chief judge," she said.
In 2009, a woman sued her ex-boyfriend through the tribunal, claiming the man owed her 60,000 yuan ($9,000). It was not their first dispute.
"It was a small case, but repeated lawsuits indicated that their conflict had never been resolved," Liu said.
She asked the two to bring all of their documents to the tribunal one day, and told them before the hearing that spending so much time pursuing lawsuits would prevent them moving on with their lives and might result in lower compensation than they expected.
The two litigants were taken aback and the case ended soon after in mediation.
Liu compared the solution to playing chess. "The dispute looked messy, but if a judge can be patient enough to understand litigants and explain the results of their lawsuits, conflicts may be alleviated effectively."
While working to improve her own abilities, Liu also encourages her colleagues to study new legal problems. All the judges in the tribunal gather on Friday afternoons for a "study time".
"We use the time to share experiences and handling of complicated cases," she said. "Some judges even talk about how to solve new types of disputes on their way back home, which shows the 'study time' has worked."
When striving to find good solutions, Liu also takes notes. "I welcome innovations that can improve our work efficiency," she added.
Lui has received many accolades. In June, she was elected as a representative of the 19th National Congress of the Communist Party of China, which will open on Oct 18.
She plans to take her progressive ideas to the plenary. "I hope technologies can be adopted more in our case hearings, and litigants' information can be shared via an internal system of judicial authorities."
No matter how busy she is, she always manages to spend every Saturday evening with her 10-year-old son.
"We watch a movie every weekend. That's our family time." she added.