Meng Jianzhu meets Italian Justice Minister in Beijing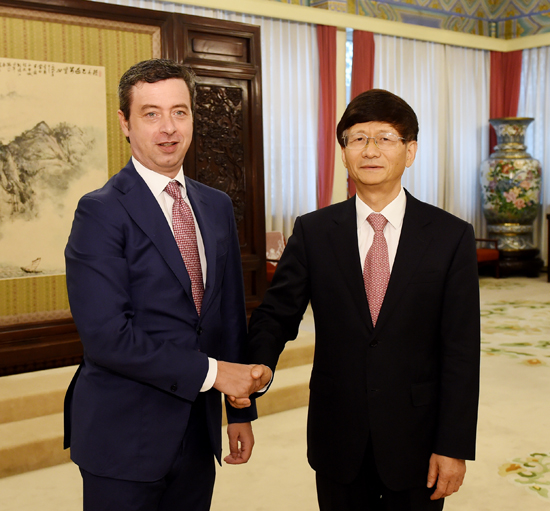 Meng Jianzhu (R), a member of the Political Bureau of the Communist Party of China (CPC) Central Committee and head of the Commission for Political and Legal Affairs of the CPC Central Committee, meets with Italian Justice Minister Andrea Orlando in Beijing on Sept. 25, 2017. [Photo by Hao Fan/The People's Courts News and Communication Agency]
China's top security chief Meng Jianzhu met with visiting Italian Justice Minister Andrea Orlando in Beijing on Sept. 25, 2017.
Meng, a member of the Political Bureau of the Communist Party of China (CPC) Central Committee and head of the Commission for Political and Legal Affairs of the CPC Central Committee, said China and Italy, as countries with ancient civilizations, have a bright cooperative future.
He said that the two countries have signed judicial extradition and assistance treaties.
He hoped that they can boost exchanges and cooperation in fighting transnational organized crime, preservation of cultural relics, and internet justice, among other fields.
Meng urged China and Italy to provide more effective legal services and judicial protection to promote the comprehensive development of bilateral relations.
Andrea Orlando echoed Meng, saying that Italy focuses intensely on its relationship with China.
He said he wished to deepen the exchanges in judicial and legal sectors to contribute more to the China-Italy friendship.