Zou Bihua: a judicial reformer that never stops
A movie based on the story of Zou Bihua is coming soon, as a reminder of the pioneering spirit of this late model judge and staunch reformer of China's judicial independence.
Zou Bihua was determined, in his own words, to be "a candle in the darkness" and he walked the talk in his judicial career for over two decades.
A Judge and Erudite Scholar
As a J.D. from Peking University, Zou Bihua gained a good command of legal expertise, but he was hungrier for knowledge after taking up his job. Most of his spare time was spent in the study, a room filled with thousands of books. He even learned Japanese in order to read Japanese legal books.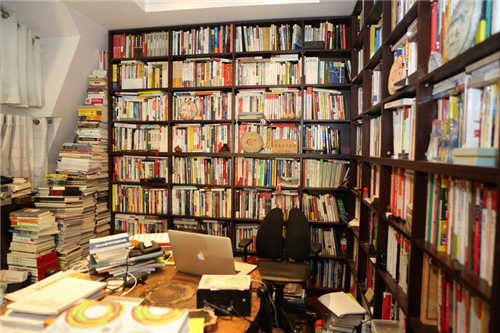 Zou Bihua often works late into the night in his study. [Photo/people.com.cn]
Based on his years of practice, he wrote a monograph on the procedures of trials, winning praise among legal professionals. "He is a jurist that really knows law," said Professor Homma, a Japanese legal scholar who kept academic exchanges with Zou.
In the eyes of Gu Quan, vice-president of people's court in Minhang District in Shanghai, Zou Bihua never gave up his pursuit in the academic field.
"Once when I was working with him, I saw him staying up after work to translate a Chinese book of legal instruments into English." said Gu Quan. "I realized that he was different from other judges. He wanted the voice of Chinese law circle to be heard by the outside."