China, Singapore sign MOU, deepen judicial co-op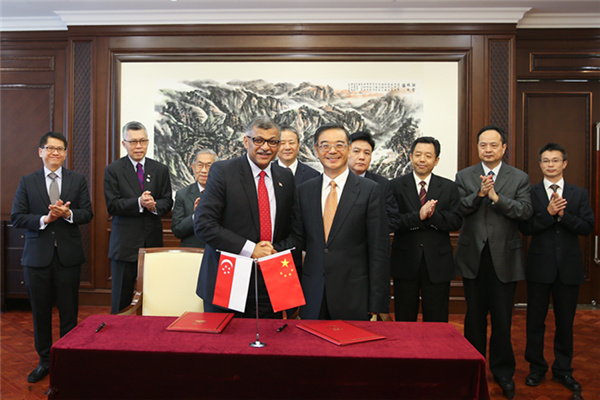 Zhou Qiang (front right), chief justice and president of the Supreme People's Court (SPC) of China, shakes hands with the Chief Justice of Singapore Sundaresh Menon after signing a memorandum of understanding on cooperation on August 21 in Beijing.
The head of China's top court met with his Singaporean counterpart in Beijing on August 21, signing a memorandum of understanding on cooperation.
Zhou Qiang, chief justice and president of the Supreme People's Court (SPC) of China, welcomed the Singaporean delegation led by the Chief Justice of Singapore Sundaresh Menon, saying that the two countries have established an all-round partnership in keeping with the times.
Zhou said China and Singapore have conducted extensive cooperation on the basis of equality and mutual benefit. Judicial organs between the two sides have also maintained friendly relations.
He said that Menon's visit will surely further consolidate and develop judicial exchanges and communication between the two countries.
Zhou introduced China's progress in implementing the rule of law and enforcing judicial reform, saying that courts of various levels in China are working hard to achieve the goal of "letting the people feel fairness and justice in every single case."
Courts are breaking bottlenecks to build a fair and highly-efficient socialist judicial system.
The SPC has put in place 65 reform measures to improve trial quality, enhance the protection of judges, and increase judicial credibility, said Zhou.
Smart courts around the country are promoting inter-connectivity and data sharing to increase trial quality and benefit the public.
China's first internet court was set up in Hangzhou, Zhejiang province, on August 18 to explore positive new trial procedures.
China's courts are deepening judicial openness -- setting up four platforms to give the public free access to trial processes, judgment documents, and enforcement information -- to build an open, dynamic, transparent and people-oriented judicial mechanism.
Zhou said he hoped China's courts will learn from their Singaporean counterparts and conduct extensive and deep cooperation in judicial reform, information construction, case study and training of the judiciary.
A deepened friendly relationship in the judicial sector between the two sides would contribute to the Belt and Road Initiative, according to Zhou.
Menon echoed Zhou and spoke highly of China's achievements in judicial reform and information construction.
He said he hoped to share relevant experience with China and enhance exchanges and cooperation.
He offered a series of concrete measures in promoting information construction, international commercial dispute settlement and judiciary training.